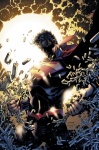 NYCC News: DC Comics announced today at the DC Entertainment Panel at the New York Comic Con that Jim Lee and Scott Snyder will be teaming up on a new, as-yet-unnamed Superman title in 2013. The series will be in continuity, but Lee and Snyder told the L.A. Times that it would also be different, a celebration of Superman's 75th anniversary and a companion of sorts to The Man of Steel movie that is due out next summer. The new Snyder/Lee Superman is definitely not an adaptation of the movie, which is probably why it isn't being call The Man of Steel.
Snyder told
Hero Complex
that he had to sell DC co-publishers Dan Didio and Jim Lee on his
Superman s
aga, which he describes as "a big, kind of epic-sized story like
Court of Owls
… a big, singular, epic story that will pit Superman against challenges. It will rock him and Metropolis to the core, and at the same time be a pretty intimate exploration of character."
In an interview with
Comic Book Resources
, DC Co-Publisher Jim Lee talked about how he and Snyder "talked when he laid out this story about visual beats we could do to make this different from other Superman titles, and other runs that I've had. We started talking about narrative and story structure and the cadence of the sequencial panels."
The "dream team" pairing of Snyder, arguably the hottest writer in mainstream comics given the success of Court of Owls, and Lee has been rumored for some time (score one for Bleeding Cool), and fan interest should help get this new Superman title off the ground in a hurry.