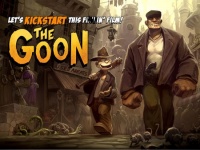 Blur Studios, David Fincher, and
Goon
creator Eric Powell have been successful in their quest to raise $400,000 to finance a story reel for a
Goon
animated feature film that the filmmakers can show to financiers and distributors (see "
David Fincher & Eric Powell's 'Goon' Toon Kickstarter
"). In a message on the Kickstarter site the filmmakers thanked their supporters: "Frankly, we don't have the words to describe our appreciation,
Goon
fans. We never could have imagined how much support we'd receive from this fan community. It's truly been overwhelming. Through your time, energy, dedication, and donations, you've given us an amazing opportunity to help keep
The Goon Movie
dream alive."
With any luck the story reel that Blur Studios will produce with the $400,000 will demonstrate the potential of an animated feature based on The Goon, a "cartoon" feature that will, by necessity, have to appeal to an older mature crowd. Not that there's anything wrong with dancing penguins, but just maybe it's time for another American animated feature that does not target the Saturday morning set. The actual The Goon feature film will probably cost in the neighborhood of $45 million to produce.