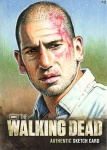 Cryptozoic will release The Walking Dead Season 2 Trading Cards on December 11th. There are 80 cards in the base set, plus nine Character Bio cards, nine Walker Shadowbox Cards, and nine Puzzle Cards. There are 33 Wardrobe Cards and three Dual Wardrobe Cards, and the ratios of Wardrobe Cards have been increased to 1:12. There are 14 autograph cards, and the ratio is 1:24. There are also two Oversized Redemption Cards: one a Triple Wardrobe card and one a Double Autograph Card. Twenty-three different artists have contributed sketch cards.
The over-all special insert ratio is 1:8.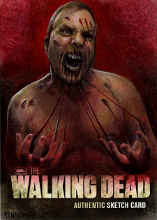 The first
Walking Dead
TV set was released last summer, (see "
'The Walking Dead Trading Cards'
"), with some amazing redemption cards (see "
Shane Badge Card Found
"). Cryptozoic has also released
The Walking Dead
trading cards based on the comics (see "
Cryptozoic Readies 'The Walking Dead Comic Trading Cards'
").