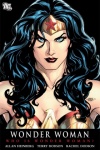 The CW network and Warner Bros. television are looking for an actress in her early to mid 20s who is at least 5'8" tall, to portray Wonder Woman in a new series that is being developed under the title "Amazon." While the news that the CW, which has just scored a major ratings success with its DC Comics-based
Arrow
series, was developin
g a Wonder Woman-based series based on Alan Heinberg's version of the
WW origin story came out several months ago (see "
'Wonder Woman' in Development as TV Series Once Again
"), the casting call that went out earlier this week has stirred up something of a hornet's nest among fans since the Wonder Woman character was referred to as "Iris" in the cast call description.
Not to worry, as DC's Geoff Johns explained on
Twitter
, "If a
WW
show happens her name will be Diana. Codenames like IRIS are used in casting a lot to try and avoid speculation." But does the casting call mean that the CW has greenlit the pilot? Not necessarily, though it is a good sign. Finding the right actress in advance can actually speed the process of getting the studio's approval for production of a pilot. Stay tuned for further news on the development of yet another
Wonder Woman
series--and don't worry that the
WW c
haracter will be called Iris--that at least is not going to happen.