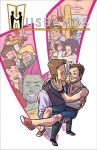 Dark Horse Comics has announced that it will be collecting its six-issue, digital series Husbands as a hardcover graphic novel in March 2013. The 80-page collection will retail for $14.99.
Based on a live-action Web series of the same name, Husbands is the story of professional basketball player Brady Kelly and tabloid sensation Cheeks. Advocates for gay marriage and equal rights, the couple wind up married after a wild weekend in Las Vegas and find themselves caught up in a series of literary genre adventures following a magical wedding gift.
Created by Jane Espenson (Buffy the Vampire Slayer and Once Upon A Time) and Brad Bell, the hardcover edition includes an introduction by Neil Gaiman, first-draft scripts, concept sketches, author notes and critiques, and a new cover by illustrator Ron Chan.
--Nathan Wilson