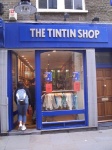 Moulinsart S.A., the company created to protect and promote the work of Herge, the creator of the internationally acclaimed Tintin graphic novels, has chosen Diamond Comic Distributors to as the exclusive distributor of Adventures of Tintin merchandise to comic book and specialty stores in the United States and the Philippines.
This announcement marks a key step in Moulinsart's first comprehensive program of Tintin collectibles, comics, and limited availability products in North America, and it includes Tintin products from Little Brown, Last Gasp, and other companies.
More than 200 million copies of Herge's Tintin graphic novels have been sold worldwide, and the intrepid boy reporter became much better known here in the States since Steven Spielberg directed a 2011 Adventures of Tintin motion-capture animated film that raised the character's profile here considerably.
Diamond began carrying Moulinsart's Tintin merchandise last June and the Tintin products will remain a focus in upcoming Previews catalogs in which Tintin merchandise will receive a dedicated page in every monthly catalog. The array of Tintin merchandise available in Europe is extensive enough that there are stores dedicated to selling nothing else in London and elsewhere.