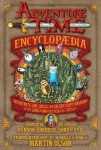 Abrams, partnering with Cartoon Network Enterprises, has announced The Adventure Time Encyclopaedia ($19.95), a hardcover reference guide to the all-ages Adventure Time TV show. Shipping in August, the tome was written by Martin Olson, who plays the Lord of Evil on Adventure Time, and will narrate the book in character.
Weighing in at 160-pages (6"x9"), The Adventure Time Encyclopaedia features 150 color illustrations, including original work by such artists as Renee French, Tony Millionaire, Celeste Moreno, Aisleen Romano, and Mahendra Singh. Sean Tejaratchi designed the book, and Pendleton War, the brainchild behind the show, contributed new content.
According to Abrams, The Adventure Time Encyclopaedia is a companion piece to the program, supplementing its characters and storyline and providing such information as fun places to visit, what you should and shouldn't eat, and how to destroy your enemies.
Adventure Time, which debuted on Cartoon Network in April of 2010, tracks the adventures of best buddies Jake the dog and Finn the human, who live in the Land of Ooo, a post-apocalyptic world populated by such curious characters as Princess Bubblegum, Lady Rainicorn, Lumpy Space Princess, the Ice King, and Marceline the Vampire Queen.
The comics from Boom have been a big hit (see "'Adventure Time's' One Big Cover"), and more licensing is on the way (see "Toon Licenses Announced").
--Brett Weiss