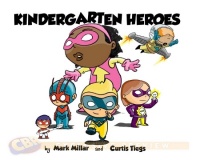 In another case of "movie before the book it's based on has even released," 20th Century Fox has named Carter Blanchard as screenwriter on a film based on his pitch for adapting Mark Millar's kid comic
Kindergarten Heroes,
according to
Deadline
.
The children's book/comic hybrid penned by Millar (
Kick-Ass, Wanted
) and illustrated by Curtis Tiegs, was announced back in February on
Comic Book Resources
, and is reportedly set to published by UK book publisher Books Noir (though no information could be found confirming that; the Books Noir Website hasn't been updated since 2009, and nothing appears on
amazon.co.uk
).
Blanchard, has been working on the DreamWorks project
Glimmer,
as well as the Warner Brother's adaption of
Spy Hunter.
Simon Kinberg (producer on
X-Men: First Class, Elysium, X-Men Days of Future Past
, and executive producer on the
Star Wars Rebels
TV series) was announced as producer, with Steve Asbell to executive produce.