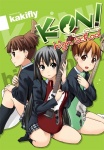 K-ON! High School TP
Publisher: Yen Press
Release Date: 10/29/2013
Price: $11.99
Creator: Kakifly
Format: 128 pgs., B&W, Trade Paperback
ISBN: 9-780-3162-5424-3
Age Rating: Teen
ICv2 Rating: 4 stars out of 5
Back in 2007 a series debuted called
K-ON
about a group of high school girls and their light music club. The series had massive success around the world spawning two anime series and a movie which led to the obvious conclusion of most of the band members graduating high school and moving on to college. What about the backup guitarist Azusa though? What happened to her as the sole remaining member of After School Tea Time? In this spinoff series, Azusa is joined by two friends and two additional band members as she attempts to keep the light music club alive.
If you were a fan of the original
K-ON
series, you are in for a real treat with this spinoff. Focusing on Azusa, this first volume takes us through six months of her third year in high school and the trials and tribulations she goes through with the other members which includes picking out new instruments, practice and their first (and only) performance in front of the whole school.
If you're not the
K-ON
franchise or the 'cute girls doing cute things' genre, this is not going to be for you. Constant references to previous events and characters are going to confuse new readers and those who don't care for more in their manga are going to go into sugar shock from all the sweetness contained within these pages. This is a book for established readers to get some extra time in with the girl that fans call Azu-nyan.
If there's one thing to complain about with this book however is that the pacing of the story goes by much too quickly. Coming in at under 150 pages, the speed in which the story covers six entire months is lightning fast. Being that the book is in four koma style, it's bad enough that
K-ON! High School
is such a fast read (you could get through it easily within a day or two, probably less) but for so much time to be covered in such a short amount of pages really makes things feel rushed. A good example of this is the vacation story which only takes up a few strips over a couple of pages.
Despite that little hiccup however, this is a solid book for fans of the franchise. The characters are adorably fun and the laughs are abundant. If you're missing Azusa and want to see what happened to her after HTT disbanded due to graduation, this is nothing but solid.
--
L.B. Bryant