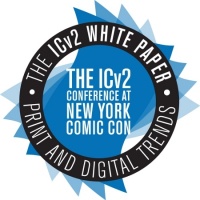 Dramatic shifts in 2013 are changing the landscape as the comics and graphic novel industry contemplates 2014. The growth rate of digital comics sales is slowing, as graphic novel and manga sales turn around after years of decline, according to the ICv2 White Paper released at the ICv2 Conference.
While still robust at an estimated 25% growth rate after three quarters of 2013, according to the ICv2 report, digital comics growth is slowing after three years of blistering growth. In 2012 digital comic sales nearly tripled, they more than tripled in 2011, and increased by a factor of 10 in 2010 (see "
Digital Comics Nearly Tripled in 2012
").
Of course, the new growth of digital sales comes on a larger base, which tends to reduce the rate, but there's also a general slowing of digital adoption in print overall (see "
Ebooks Falling
").
Sales of graphic novels and manga across all channels, including both comic stores and bookstores, are turning in a positive direction in 2013 for the first time since 2008, according to ICv2 estimates. Graphic novels are up 6% through three quarters of 2013, with manga growing faster than the overall graphic novel growth rate. That's driven by growth in both the bookstore and graphic novel channels.
There are a number of reasons for this turnaround, including the fact that DC had its top backlist in Barnes & Noble in the first half of 2013 (they were feuding and B&N removed DC's bestselling graphic novels from its shelves in 2012, see "
B&N to DC—It's On!")
. But there are also a number of other positive drivers, including improved content as collections of better-selling comics from Marvel and DC hit the graphic novel format; movie and TV tie-ins, with The Walking Dead leading the way, but a lot of strength in kids titles as well; strong continuing performance from well-written titles like Hawkeye and Saga; and the rebound of manga behind a massive new hit in Kodansha's
Attack on Titan
.
The turnaround of manga is more dramatic. By 2012, manga sales had declined to near levels in 2002, when ICv2 started tracking sales of the category. The decline of anime on television; the loss of Borders, which had been a big manga supporter; and a dearth of new hits all contributed.
But there are now a number of manga positives beyond the big hit Attack on Titan, which has brought more excitement to the category than has been seen in years: the re-issues of Sailor Moon are continuing to find a large audience, the growth of Yen Press as a major manga publisher, the continued strength of Viz Media's perennials and newer hits, and the popularity of the Alice in the… volumes from Seven Seas and Yen.
Of course, we're currently only about halfway through the all-important fourth quarter and things can change, but the momentum for graphic novels and manga is a welcome trend and a positive indicator for a big holiday season and a better 2014.