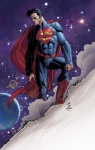 In a surprising move, John Romita, Jr. is moving to DC, and will be drawing the ongoing
Superman
title beginning this summer. And to make the book even more high profile, DC Chief Creative Officer Geoff Johns will be writing. The announcement was made in DC's
All Access
web show, released Tuesday.
Romita has worked for Marvel for almost his entire career, with a handful of exceptions, and has never before worked for DC. His father was also a Marvel lifer.
This is apparently a long term move; DC co-publisher Dan Didio described Romita's work on
Superman
as "hopefully just the first of many characters" he'd be drawing at DC.
Romita will be working with a long-time collaborator: Klaus Janson will be inking his work on
Superman
, according to
Comic Book Resources
.