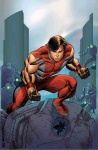 Dynamite Entertainment is adding to its already substantial promotional support for the launch of
Magnus: Robot Fighter
with additional elements tied to the final order cut-off for advance reorders. Retailers that increase initial orders by 20% will be able to order unlimited copies of a Rob Liefeld color variant cover, and to order one fifth as many of a b/w version of the cover. Dynamite believes that at current order levels, there may be substantial unfilled demand, based on the response to
Turok
#1, the first Dynamite Gold Key title, which launched last month and sold out before shipping.
The advance order trade promotion for
Magnus
was already substantial (see "
Trade Promotions for 'Magnus' Launch
").
Dynamite announced the deal to release comics based on the Gold Key titles
Turok: The Dinosaur Hunter, Magnus: Robot Fighter, The Occult Files of Doctor Spektor
, and
Solar: Man of the Atom
, last October (see "
Dynamite Reviving Gold Key Heroes
").