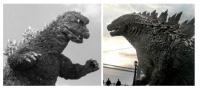 The King of Monster's original creator is getting back in on the action. Japan's Toho Company, Ltd. has announced plans to produce a new
Godzilla
movie, according to
The Hollywood Reporter.
This will be the first
Godzilla
release for the studio since 2004, and follows in the wake of the successful Legendary Pictures reboot which took in more than $500 million globally. Legendary has already reserved a date for
Godzilla 2
in 2018 (see "
'Godzilla 2' Release Date Set
") and announced that fellow kaiju Mothra, Rodan, and King Ghidorah will be making appearances.
"This is very good timing after the success of the American version this year: if not now, then when? The licensing contract we have with Legendary places no restrictions on us making domestic versions," a Toho staffer told
THR
. The studio said that production is planned to begin in summer 2015, though no production team is in place yet. Toho admitted it can't match the $200 million Hollywood blockbuster budget, but believes that advances in CG will allow it to match the overall production quality. The film is planned for 2016 release.
Toho also announced the formation of a Godzilla Strategic Conference (Godzi-Con), a committee of executives and directors working to reboot the Godzilla brand through merchandising and other activities.
IDW Publishing holds the comic license from Toho, and Legendary Entertainment's Legendary Comics put out an OGN tied to their movie earlier this year (see "
'Godzilla' OGN from Legendary
").