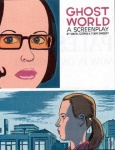 Daniel Clowes' and Terry Zwigoff's Ghost World has solidified its position as the 'sleeper hit' of this summer's movies. MGM is pursuing a very deliberate release schedule with the film, which played on just 81 screens last weekend. Nevertheless Ghost World managed to gross $571,340 for a per screen average of over $7,000 per screen making it one of the top films in the country on a per/screen basis over the Labor Day weekend. Meanwhile, the startlingly strong sales of the Ghost World graphic novel and screenplay, which ICv2 reported on the films initial release (see 'Ghost World Books Boffo') continue unabated. With over 70,000 copies in print, the Ghost World graphic novel is now Fantagraphic's all-time best-selling book. The seventh (and largest to-date) printing has just shipped from the printer, which means that it should be available for reorders now.
Even though Ghost World has only earned $3.5 million to date, it is a far more important film to pop culture retailers than mega-grossers like The Mummy Returns, Pearl Harbor, or even Shrek. The almost universally positive reviews that Ghost World has garnered have guaranteed its success with movie-savvy audiences. More importantly, Ghost World has done much more than just get 'fannies in the seats,' it moves audiences to buy books. This is a film that it is worth going the extra mile to merchandise in your store, worth the extra effort of working out an arrangement with the theater that is showing it, worth outreach advertising to let moviegoers know where they can find the graphic novel that was the source for the film.
On Friday, September 7, Ghost World opens in ten new cities: Hartford, Rochester, Albany, Buffalo, Syracuse, Indianapolis, Winston-Salem, Santa Fe, Fort Collins, and Boulder.

Retailers in these cities should be ready to capitalize on one of this year's best merchandising opportunities.

In addition to the Ghost World graphic novel, Fantagraphics has also published an illustrated screenplay written by Dan Clowes and (director) Terry Zwigoff.