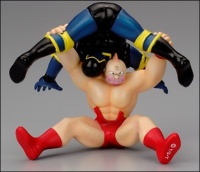 Yamato USA has announced three new series of blind box trading figures from the company's SIF (Story! Image! Figure!) line. The new series are all based on popular properties including Ultimate Muscle (Kinnikuman), Ping Pong Club, and Excel Saga, and real anime/manga fans enjoy collecting these 4' trading figures, which are sold in blind box packages.
The Ultimate Muscle collection includes six of the characters from the popular anime/manga displaying their signature wrestling moves -- Kinnikuman with his 'Kinniku Buster,' Terryman with his 'Calf Branding,' Robin Mask with his 'Tower Bridge,' Brocken Fr. with his 'Blood Rain of Berlin,' Warsman with his 'Paro Special,' and Ramenman with his 'Leg Lariat' move. Each 4' figure is available in two different paint treatments representing the character's manga and anime colors (the Ultimate Muscle anime is currently airing on the 4Kids Saturday morning block) and individually sealed in a mystery box.
The crass and rollicking delights of the Ping Pong Club have been compared to politically incorrect and often disgusting (but funny) humor of South Park. Fans of this iconoclastic anime/manga will love the six different 4' trading figures available from Yamato.
If anything the Excel Saga is even more over the top (though less crass) than Ping Pong Club, and the Excel Saga anime has definitely been more popular here in the States. Fans can try to obtain these fully painted 4' figures of Excel, Hyatt, Elgara, Ropponmatsu 1, Ropponmatsu 2, and Misaki Matsuya.