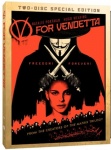 According to the Neilson VideoScan report V for Vendetta topped both the DVD sales and rental charts in the week following its home video release on August 1st. The film, which is based on the graphic novel by Alan Moore and Dave Lloyd, earned $70.5 million at the domestic box office earlier this year.
The V for Vendetta film also spurred strong sales of the V for Vendetta graphic novel, which according to BookScan has accumulated bookstore sales of over 75,000 copies in the past twelve months. During the same period the best-selling volume of Frank Miller's Sin City graphic novel has bookstore sales of 55K (of course there are seven volumes in Miller's Sin City series, which means that the Sin City film inspired more sales over-all).
Just as was the case with Sin City, the release of the V for Vendetta DVD has resulted in renewed sales for the V graphic novel. Independent retailers interviewed by ICv2 for the upcoming Retailers Guide to Graphic Novels #9 all report additional sales of the V for Vendetta graphic novel, and the book has moved back into the BookScan graphic novel top ten, grabbing the #8 spot for the week ending August 13th.