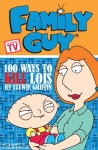 Home Media Retailing has revealed a couple of the 'deleted scenes' for Family Guy Vol. 4, due out in November.
DVD purchasers can view such treats as the un-aired episodes where Peter and Lois settle their vasectomy debate with a race in two old jalopies and one involving Peter, an overpass, and a necessary bodily function.
The Family Guy airs on Fox, appears in syndication (see 'The 'Trib' Nabs 'Family Guy'') and has several licensed properties including trading cards from Inkworks, a comic book from Devil's Due (see 'Devil's Due to Publish Family Guy Comics'), books from Harper Collins, and action figures from Mezco.