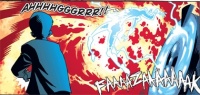 Dark Horse Comics has put up a Website preview of The Umbrella Academy, a new comic book series written by Gerard Way, the lead singer for My Chemical Romance, the popular New Jersey-based band whose new album The Black Parade just reached #2 on the Billboard charts.
The Umbrella Academy, which features art by De:Tales co-creator Gabriel Ba, is due out in mid-2007. It tells the story of seven extraordinary, maladjusted individuals and their plight to protect the planet. The series begins when the members of the Umbrella Academy, now grown-up and disbanded, learn their adoptive father, Sir Reginald Hargreeves, aka 'The Monocle,' has died. When the former team members become aware of a new world-ending threat, they must put their personal and inter-personal problems aside and unite the super-group once more.
Gerard Way is not just the lead singer of a very popular band, he is extremely familiar with the world of comics having worked as an intern at DC Comics. Way's lyrics are heavily influenced by a who's who of top flight comic book writers including Grant Morrison, Alan Moore, Garth Ennis, Neil Gaiman, Frank Miller, and Mike Mignola. Given the popularity of My Chemical Romance, a recent musical guest on Saturday Night Live, The Umbrella Academy might turn out to be a very interesting title, especially for urban and college town stores with a young hip clientele.