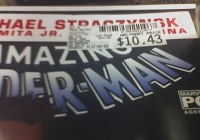 Robert Scott of Comickaze Comics Books and More in San Diego, California saw our coverage of Wal-Mart's sales of graphic novels (see '
Diamond Doesn't Sell Books Directly to Wal-Mart
') and shares his own experience:


'Kuo-Yu Liang of Diamond Book Distributors told ICv2 that Diamond does not sell books directly to Wal-Mart for the mega-retailer's online store.'


Semantics?


I don't know but I do know that major brick and mortar and online retailers DO order directly from Diamond, whether through Diamond Book Distributors (DBD) or Diamond Comic Distributors (DCD). Items listed as Direct Market (DM) or Previews Exclusive (PX), routinely show up in non-DM outlets.

This is not to say that it is a bad thing but I have to wonder why someone from Diamond is trying to distract attention from Diamond's involvement with non-DM retail entities?


DBD/DCD also facilitates exclusive product listings for Amazon.com such as pre-packaged sets of Sin City TPB which include an inserted item.

While not significantly different than items available to DM retailers, these sets are sold directly through DBD/DCD to Amazon and although visible to DBD/DCD accounts in our online ordering catalog, are unavailable for DM orders.


I also know, through years of discussion with other DM comic retailers in the Comic Book Industry Alliance, that returns from those mass market and online retailers filter back into DCD inventory and are showing up in DM stores.

I've attached a picture of a damaged copy of Amazing Spider-Man Vol 2 that I recently received from DCD, still sporting its Wal-Mart price tag, as evidence.

The opinions expressed in this Talk Back article are solely those of the writer, and do not necessarily reflect the views of the editorial staff of ICv2.com.