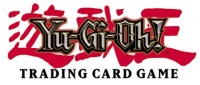 Upper Deck's American edition of the Yu-Gi-Oh card game (see 'Upper Deck Gets Yu-Gi-Oh') is selling out in a hurry all over the country. The product is so hot that in many areas, if you can find it at all, it's selling well above the suggested retail; for example, there were auctions closing on eBay today with two deck sets of Starter Sets selling for around $40, although Boosters did not seem to be as hot. And reports from Canada indicate that someone is attempting to counterfeit Upper Deck's English version of the game, although it is unlikely that they will be able to duplicate the security foil found on all Upper Deck products. Reports of speculation on this product are rampant, which makes Upper Deck's job of judging true demand extremely difficult. Upper Deck will keep the Unlimited Starter Decks in stock with frequent re-printings -- and the first round of 'unlimited' boosters may be reprinted one more time in June.
The second series of Yu-Gi-Oh Boosters, Metal Raiders is due out in late May.

With the demand for the product growing quickly, it appears that orders on Metal Raiders may also be allocated.

Of course with the Yu-Gi-Oh series running daily on the WB network (see 'Yu-Gi-Oh Goes Daily in April'), and the Saturday morning Yu-Gi-Oh broadcast dominating the ratings (at least for boys), this property has superb potential as long as kids can obtain what they need to play the game at a reasonable price.

The buzz on this product is strong enough that even stores that don't normally carry CCGs should consider bringing in some Yu-Gi-Oh product.

The problem for stores that do carry games as their main focus is whether they should run events for a product that they can't keep in stock.

More than a few retailers are already doing so in hopes that supply will match up better with demand in future Yu-Gi-Oh offerings.

Certainly running gaming events is an increasingly important part of game retailing (see 'The Ins And Outs of In-Store Gaming Events').

For its part, Upper Deck has to determine how to produce and release more product without creating a surplus situation that will damage what could be the most important CCG franchise of the year.