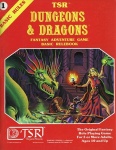 Today's debut of Wizards of the Coast and DriveThruRPG "dndclassics" Website was met with a much higher than expected level of interest with many gamers unable to access the site. A spokesperson for DriveThruRPG noted that the company had prepared for increased traffic, but that the site was slammed by a much higher volume of traffic than expected. At 8pm this evening ICv2 was able to access the site with no trouble, so the site's traffic problems may be short-lived.
Announced last year at GenCon (see "
The D&D Next Keynote
"), the dndclassics site will eventually provide access to the complete library of
Dungeons & Dragons
modules, sourcebooks, rulebooks, and adventures including all the classics produced by TSR from 1974-1997. The dndclassics site is administered by DriveThruRPG.com and those who have accounts with DriveThru can access them via the new dndclassics site.
The new dndclassics site currently has 80 items that range from 1981 D&D Basic Game Rulebook to items produced well into the WotC era of D&D. These items can be purchased for downloading as watermarked PDFs. The PDFs are all being produced from fresh hi-res scans, and they are searchable, which could come in especially handy with rulebooks and longer works.