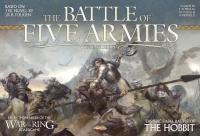 Ares Games has released images the box art for
The Battle of the Five Armies
(MSRP $89.90)a board game based on the climactic battle of J.R.R. Tolkien's
The Hobbit
, which is due to be released this Spring.
The Battle of Five Armies
game is designed by the same team (Roberto Di Meglio, Marco Maggi, and Francisco Nepitello) responsible for Ares'
War of the Rings Board Game
.
The Battle of Five Armies
game is based on the rules and mechanics of the
War of Rings
game, but the gameplay has been modified to function on a tactical level for a single battle rather than the entire war (as in the
War of the Rings
game).
First announced back in late 2012 (see "
'Battle of the Five Armies' Board Game
"), is a two-player game. One player is in charge of the Shadow armies led by Bolg, son of Azog, the King of Goblins, while the second player assumes control of the Free Peoples army, composed of Elves, Dwarves, and Men. The action in the game is complex and the commanders must keep their plans flexible as they adapt to changing conditions and the fickle finger of fate.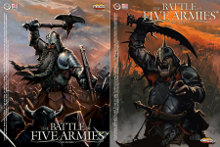 The key figures in
The Hobbit
saga, Bilbo, Bolg, Gandalf, Thorin, Beorn, Dain, Thrandull, etc. will all be represented in the game by carefully sculpted plastic figures and accompanying beautifully illustrated character cards that summarize their abilities.
The deluxe
Battle of Five Armies
board game includes 125 plastic figures (using 21 different sculptures), a 20" by 28" game board representing the Lonely Mountain and its surrounding area, 13 action dice, 10 combat dice, two decks of story cards, one deck of event cards, a set of 9 fate cards, a set of 12 character and special units reference cards, and more than 100 die-cut tiles, counters and tokens. Tentative MSRP is $89.90.