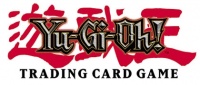 Upper Deck has announced that it has acquired the license to produce and market the English language version of the Yu Gi Oh CCG, the game that took off when Pokemon declined in Japan. The property was originally developed as a manga, and found further development as a videogame from Konami and as two anime series shown on Japanese television. The TV show recently debuted in the U.S. on the WB to good ratings (see 'Yu Gi Oh Dominates in Debut'). The property is being handled in the U.S. by 4Kids Entertainment, the same company that handled Pokemon (see '4Kids Nabs YuGiOh').
The CCG is heavily integrated into the storyline of the anime, making the game a more direct merchandising connection to the show than is the case with any of the previous anime/CCG properties--Pokemon, Digimon, or Dragon Ball Z.
The first Upper Deck products will be starters and boosters.

There will be two pre-constructed single player decks, each featuring 47 commons, 3 foils, a rule book, and a 'duel field.'

The two 'themes' for starter decks will be Yugi and Kaiba.

Legend of Blue Eyes White Dragon Booster Packs will each have 9 cards per pack, including one foil card, for an MSRP of $2.99.

Starters and boosters will ship at the same time in March 2002.