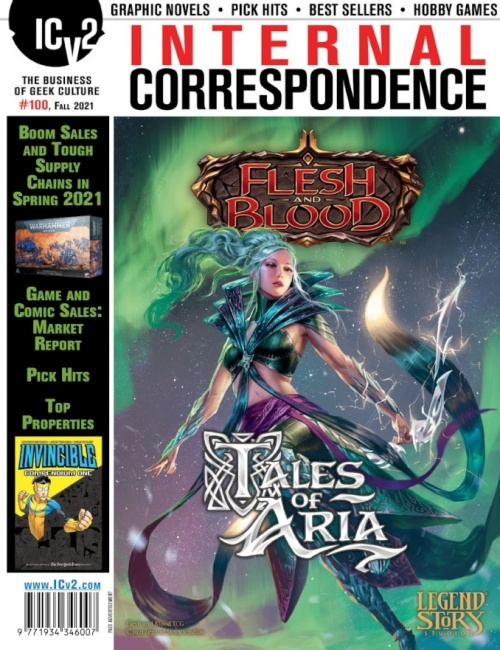 The comics and graphic novel market had an excellent spring, with record sales for many, according to our interviews and analysis. After a crushing shutdown early in the Covid pandemic last year, followed by a slow resurgence, the comics market finished 2020 strong, and the Spring season built on that momentum.
The market strength was not limited by geography or local response to the Covid pandemic; comics and graphic novels were selling in comic stores across the country, with frequent reports of new monthly sales records.
Streaming continues to drive graphic novel sales with the
Invincible Compendiums
getting multiple mentions and moving up the charts in both the book channel and in comic stores. From the Big Two, DC Comics appears to be improving its graphic novel program while Marvel is having trouble keeping books in stock.
The hottest graphic novels right now are manga. We've been seeing manga selling at triple the levels they were two years ago in the book channel, according to monthly numbers provided to ICv2 by NPD BookScan. Demand is also extremely strong in comic stores, according to ComicHub reporting and our interviews.
Kids graphic novels appear to have plateaued, and while the big franchises continue to sell well, the number of titles is growing faster than the growth of the market, leading to underperformance on some new titles.
In periodical comics,
X-Men, Spider-Man,
and
Batman
remain staples of comic store sales from the Big Two, with DC bringing more heat than Marvel Comics. But the real action was in publishers below the Big Two in size. Image Comics, BOOM! Studios and Scout Comics were repeatedly mentioned in our interviews as publishers whose books were consistently outperforming expectations.
The part of the market with the most froth is high-grade slabbed back issues, where prices on "key" books featuring the introductions of characters have escalated rapidly, along with demand. Looking ahead, back issues are the part of the market that's most vulnerable to a shock as entertainment and spending options expand. There's a lot more faith that the growth of comic reading over the past year will persist as the pandemic recedes.
For the top graphic novel franchises for the Spring season, see the ICv2 Top Franchise charts, originally published in
Internal Correspondence
#100:
Top 10 Author Graphic Novel Franchises – Spring 2021
Top 10 Kids Graphic Novel Franchises – Spring 2021
Top 10 Manga Graphic Novel Franchises – Spring 2021
Top 10 Superhero Graphic Novel Franchises – Spring 2021
The full-length version of this article appeared in
ICv2's Internal Correspondence
#100. It's also available on the ICv2 Pro site, see "
Record Spring Comics and Graphic Novel Sales
."
If you are a U.S. retailer, e-mail Dennis Viau at
DViau@ICv2.com
to get your free print subscription
to ICv2's Internal Correspondence
.
ICv2 Pro subscribers have early and complete access to
ICv2's Internal Correspondence
content. To sign up for a free two-week ICv2 Pro trial,
click here
. If you are already an ICv2 Pro subscriber, you can access the complete issue by
clicking here
.
Digital copies (PDFs) of
ICv2's Internal Correspondence
are available instantly from your favorite DriveThru store. To order a digital copy of
ICv2's Internal Correspondence
#100,
click here
.
For librarians and educators interested in subscribing to
ICv2's Internal Correspondence
, order from EBSCO (title #408-601-128) or WT Cox (title #128411).