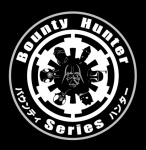 Kotobukiya is expanding its ARTFX line of statues with a series of six popular bounty hunters from the Star Wars saga. First up will be Boba Fett, the Mandalorian Menace, who is the most popular of all the Star Wars killers for hire. After Boba Fett's debut in April of 2008 Kotobukiya will release a new bounty hunter every month in the series of snap-fit kits that will also include Dengar, 4-LOM, Zuckass, Bossk, and IG-88. Each kit will come a special bonus part -- collect all six bounty hunters and create a $100 full size Darth Vader statue from the bonus parts.
The ARTFX Boba Fett stands nearly 12-inches tall in a dynamic fighting pose, simultaneously flying and firing his flame thrower. The bounty hunters costume, including his distinctive Mandalorian armor, is based on his appearance in Return of the Jedi and is reproduced in great detail. The Boba Fett figure comes with Darth Vader's left arm and a cool base -- the bases of all six figures can be arranged to create an imperial logo.
Like all Kotobukiya's ARTFX figures the bounty hunter series will not include any exclusives or limited edition -- a policy that should make it easy for collectors to acquire all six figures.