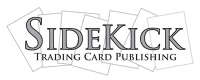 We recently had a chance to talk to Tom Lichtman, founder and owner of Sidekick Trading Card Publishing about his company and its products.
How long has your company been around?
About three years.
Tell us about your cards.
We are doing vintage style trading cards, just like the old baseball cards, Star Wars cards of the 80s, but with modern, contemporary artists. We're very focused on contemporary art, but with old packaging.
We have several lines. We have the Melty Misfits, which is patterned after the old Garbage Pail Kids. There are actual stickers using the vintage style sticker stock. We also have Suckpax, which is designed by Super Sucklord. We have the Art Hustle, which is by a collective of a large group of artists. We also have a couple of small, individual sets like Curiosity on Mars, based on the latest NASA JPL project.
That's the most recent one--Curiosity on Mars?
Yes, it's a limited set. There are 24 different base cards in the set. I produced it myself because I just loved the rover and it as a way of expressing my interest in the rover to turn it into a little mini card set.
How are your products sold?
Shows and online.
No distribution?
We do distribute the other products [other than Curiosity on Mars]. Since this is a personal project, it's very limited distribution. The others are distributed through DKE, a company in Los Angeles, and they deal with urban vinyl stores.
So that's the audience for your cards? Urban vinyl, lowbrow?
Yes.