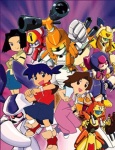 Nelvana, the Canadian-based company that packaged Cardcaptors for American (and Canadian) television, has just announced that its latest anime import, Medabot will appear this fall on the Fox Kids network (see 'Nelvana Licenses New Anime'). Like Cardcaptors, the Medabot anime series comes from NAS/Kodansha, Japan's largest multi-media company. Nelvana has acquired worldwide distribution and merchandising rights (except for Italy and Asia) for the 50-episode series that debuted on TV Tokyo in 1999, where it was known as Medarot.
The series is set in the technologically advanced year of 2122 A.D., when every kid owns a high performance Medabot, a pet-robot with artificial intelligence and super strength controlled exclusively by its owner. The high-powered action-adventure anime features over 370 different robots, each endowed with its own special powers and abilities. Nelvana has signed up a major toy licensee, but the name of the company will not be released until the Licensing Show later this spring. With a potential 370 robot skus alone, the Medabot toy line could be huge if the series hits big. Trendmasters has acquired the Cardcaptors toy license from Nelvana, but it is not known at this time whether or not they were able to snag the right to create the Medabots toys. The upside potential for the toys is clear from the four million units sold in Japan in just the first two years that the Medabots series was on TV.
The early announcements for the Fox Kids Network lineup for fall, 2001 (see 'Fox Kids Adds Two New Anime Series For Fall'), did not include the Medabot series.

Thanks to a potential strike by both writers and actors in Hollywood, next season's TV offerings are more in flux than ever.

As it appears now, Fox Kids will have three new anime series for the start of the next school year, including Transformers: Robots in Disguise, Shinzo, and Medabots.

Both the Transformers and Medabots have potentially huge toy tie-ins, but stay tuned, and we will try to sort out for you exactly which anime series will be appearing on nationwide TV next fall.