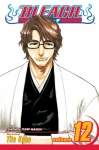 The highly anticipated Bleach anime series will debut on the Cartoon Network's Adult Swim on Saturday September 9th at 11:30 pm (ET, PT) and will continue to air on Saturdays at that time. Even though the Bleach anime has yet to air in the U.S., the Bleach manga (published by Viz) is a top 10 manga property and should benefit from the debut of the anime series.
In addition to the manga, retailers should have a growing amount of Bleach merchandise to sell since Toynami (see 'Toynami Snares Bleach License') and Great Eastern (see 'Great Eastern Adds Bleach License') will debut their Bleach lines this fall in the wake of the airing of the Bleach anime on Adult Swim.
The third Inuyasha movie, Inuyasha the Movie 3: Swords of an Honorable Ruler, will air on Adult Swim on Saturday, August 12th at 11 pm (ET, PT). Viz has sold over a million units of the three Inuyasha movies.