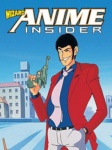 Wizard Entertainment, the publisher of Wizard: The Comics Magazine, is changing the name of its anime-themed publication from Wizard Anime Invasion to Wizard Anime Insider and taking the once quarterly publication to bimonthly status starting in February. 'Spectacular sales and a tremendous fan response' were the reasons cited by Wizard Entertainment Chairman of the Board Gareb Shamus for increasing the frequency of the publication.

The growth of the anime fan base in the U.S., spurred by the increasing exposure of anime on American television, is also reflected in the choice of key articles for the first bimonthly issue of Anime Insider #6, which include features on Lupin III, Dragon Ball Z, and .hack

(all three of which are, or soon will be, on the Cartoon Network) along with a Noir Episode Guide.
Anime Insider #6, like its predecessors, will ship with two covers, one featuring Lupin III (who is currently tearing it up on the weekly Adult Swim block) and the second featuring the even more popular Yu-Gi-Oh. Anime Insider #6 goes on sale on February 19 in comic book specialty shops and on March 3 on newsstands.