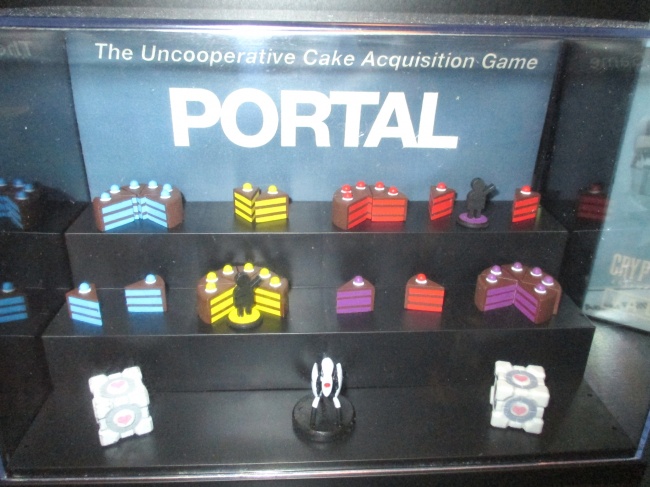 At The GAMA Trade Show, Cryptozoic Entertainment shared details on two upcoming releases for
Adventure Time: Card Wars,
a
Watchmen Crossover Pack
and
Teen Titans
big box for
DC Deck-Building Game,
and this
Portal
picture for the board game due in July (see "
New 'DC Deck-Building' Packs, More 'Epic Spell Wars,' 'Portal' Scheduled
").
The next DC Comics Deck-Building Game release will be the Watchmen Crossover Pack. Like the JSA Crossover Pack, it will feature 10 new heroes and a new set of villains to add to main game, such as Heroes Unite or Forever Evil. "What Watchmen adds is a Hidden Traitor mechanic," said Cryptozoic Creative Director Adam Sblendoria. "So while everybody is on one side, you don't know who is actually not on your side."
Sblendoria also shared that in mid-summer, a DC Comics Deck-Building Game: Teen Titans stand-alone release is planned. Like previous big-box releases, a special promo card will be included inside the box for the first print run. MSRP will be $40.00.
The next two-player
Collector's Pack
for
Adventure Time: Card Wars
will be
Ice King vs. Marceline
. "The Icy Lands have already been introduced, so the Ice King introduces a new landscape with freeze tokens, which means players can craft even more diverse decks," Sblendoria said. "This will be the first release to include the hero cards in the deck." Because the game exists within the
Adventure Time
universe, initially, characters from the show were not included in the card game that they, themselves, play on the show. Cryptozoic added character cards (Finn, Jake, BMO, Princess Bubblegum, ect) to the game recently with the
Hero Pack #1
release, so now players can utilize an in-game persona which grants them special abilities for their decks. MSRP for the
Collector's Pack
is $20.00.
The next Collector's Pack release will be Lemongrab vs Gunter, Sblendoria said, which is due by Q4.
Cryptozoic also recently announced two other 2015 releases (see "'Spyfall'" and "'Ghostbusters: The Board Game'").