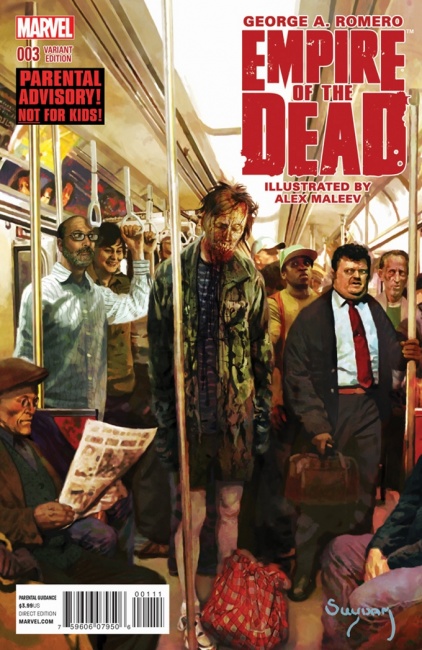 Movie and TV production and finance company Demarest is developing a TV series based on the
George A. Romero's Empire of the Dead
15-issue comic book series from Marvel that debuted in January of 2014 and is slated to end in August of 2015 (see "
'George A. Romero's Empire of the Dead'
"). Demarest, which has produced films as varied as
A Most Wanted Man
starring the late Phillip Seymour Hoffman and Kevin Smith's
Tusks
, has an AMC series, an adaptation of John Le Carre's
The Night Manager
starring Hugh Laurie, in production now. George A. Romero basically reinvented the zombie movie with his groundbreaking
Night of the Living Dead
in 1968.
According to
Variety
, Romero and his longtime partner Peter Grunwald will write the TV series, which will be based on
Empire of the Dead
, which adds vampires to provide some interesting narrative twists on the traditional zombie epic.
The
Empire of the Dead
series will have Romero's pedigree, but it will also enter a small screen marketplace increasingly packed with the ever-shambling legions of the undead. In addition to trendsetter
The Walking Dead
, there is the clever
iZombie
, which just got renewed by the CW Network (see "
Geek TV Round-Up
"
), plus
The Walking Dead
spin-off series
Fear the Walking Dead
, set in Los Angeles (see "
Female Lead Cast in 'Walking Dead' Spin-Off
"
), and the 13-episode
Z Nation
series that is set to debut this fall on Syfy.