Matthew Vaughn's adaptation of The Secret Service comic book series tops an interesting week of releases that also include the teen comedy The DUFF, the first season of The Strain, a complete hi-def collection of Gerry Anderson's Thunderbirds, and a full slate of anime.
Theatrical Releases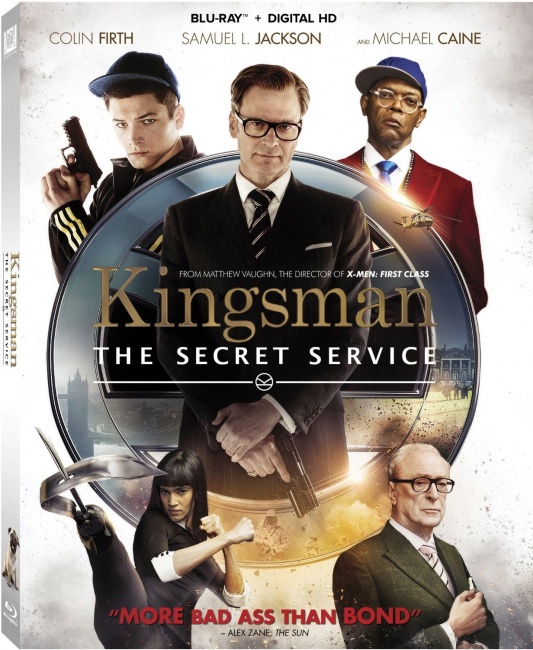 The top release this week is Matthew Vaughn's
Kingsman: The Secret Service
(Fox, "R," 129 min., $29.98, BD $39.98), which is based on the comic/graphic novel series
The Secret Service
by Dave Gibbons and Mark Millar.
Kingsman
has earned $403 million worldwide, making it Vaughn's most successful film yet and the first big comic book movie hit of 2015. Colin Firth stars in this cheeky throwback to the early days of
James Bond
on the big screen complete with an over-the-top villain bent on world domination.
Kingsman
gets the lighthearted 1960s spy movie vibe right, though the language and the often gratuitous violence will put off those who don't enjoy black humor. For others this will be the most entertaining comic book movie of the year.
Another 2015 film making its disc debut on Tuesday is The DUFF (Lionsgate, "PG-13," 101 min., $29.95, BD $39.99), a teen comedy based on the YA novel by Kody Keplinger about a high school senior who discovers that she is the "Duff" (the "designated ugly fat friend") in her group. Mae Whitman is really good as the eponymous heroine and Robbie Amell (Ronny Raymond/Firestorm in the CW's The Flash) manages to humanize his role as "the jock, who surprises everyone with his sensitivity."
Serena (Magnolia, "R," 110 min., $26.98, BD $29.98) is a depression-era, lumber empire-building melodrama based on a novel by Ron Rush. Bradley Cooper and Jennifer Lawrence star in this visually impressive film directed by Danish helmer Susanne Bier that was made right after Silver Linings Playbook in 2012, but only released here earlier this year to miniscule business ($200,000 in North America). When a movie is delayed for over two years, it is almost always a very bad sign. In spite of all that star power, Serena only managed a pitiful 18% positive rating on Rotten Tomatoes.
TV on DVD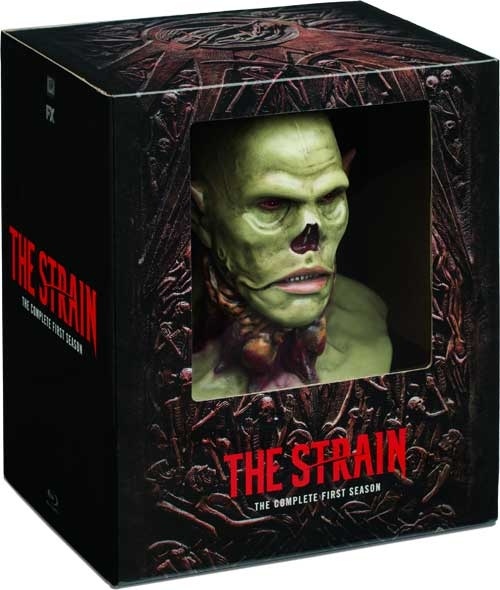 A surprisingly large number of geek-friendly releases await this week including
The Strain: The Complete First Season Collector's Edition
(Fox, 596 min., $69.99), which comes in a box along with a grisly sculpt to get you in the mood for this science fiction/medical drama written by Guillermo Del Toro and Chuck Hogan. Dark Horse has already published a comic adaptation, and Del Toro himself directed an episode of this saga about a new rapidly-spreading virus that has a lot of affinity with old-fashioned vampirism, keeping the action believable by adopting the characters and look of a medical thriller to make a dark fantasy appear especially realistic and frightening.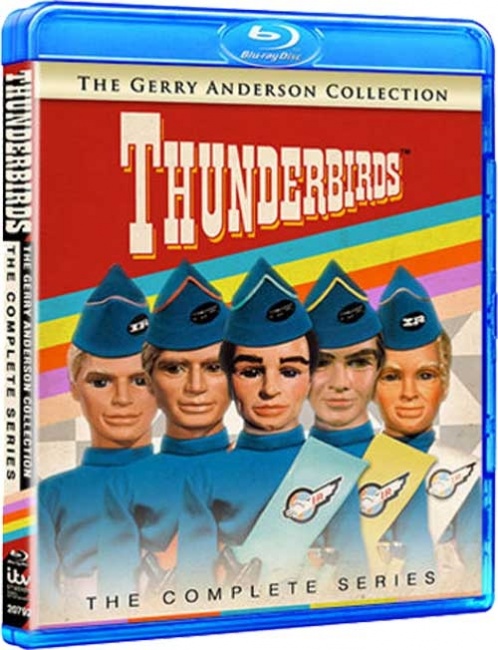 Another prime "delight of the week" is
Thunderbirds—The Complete Series: The Gerry Anderson Collection
(Timeless Media, 1,690 min., $49.97, BD $69.97), which collects every episode of the crown jewel of Gerry Anderson's SuperMarionation puppet wizardry on six BDs (or 8 DVDs). Extras include the "Launching Thunderbirds" documentary as well as a vintage
Thunderbirds
publicity brochure (on BD/Rom).
Other releases of special interest include the post-apocalyptic medical thriller, The Last Ship: The Complete 1st Season (Warner Bros. 440 min., $39.98), which collects all 10 episodes of the series that airs on TNT (and has been renewed for a second season starting June 22), the action-packed movie spin-off The Transporter: The Series, The Complete 2nd Season (Fox, 570 min., $29.98), the MTV horror series Teen Wolf: Season 4 (Fox, 514 min., $29.98), and a single-disc offering from the new Nickelodeon TMNT series, Teenage Mutant Ninja Turtles: Pulverizer Power (Nickelodeon, $9.99).
Vintage TV releases include The Abbott and Costello Show: Ultimate Collection (eOne, 1320 min., $79.98), which includes all 52 episodes of the vintage variety show on 9 DVDs, the original (and still the best) TV version of Neil Simon's The Odd Couple: The Complete Series (Paramount, $59.98), all 178 episodes of one of the most popular sitcoms of Bicentennial era, The Laverne & Shirley Show: The Complete Series (Paramount, $79.99), plus another sitcom from the same era, Facts of Life: The Complete Sixth Season (Shout Factory, 570 min., $29.93), and the final seasons of the kids' animal show Daktari: Season 4 (Warner Bros., 755 min., DVD-R only, $35.99) and the husband and wife crime-fighting series, Hart to Hart: The Final Season (Shout Factory, 1050 min., $39.97).
Anime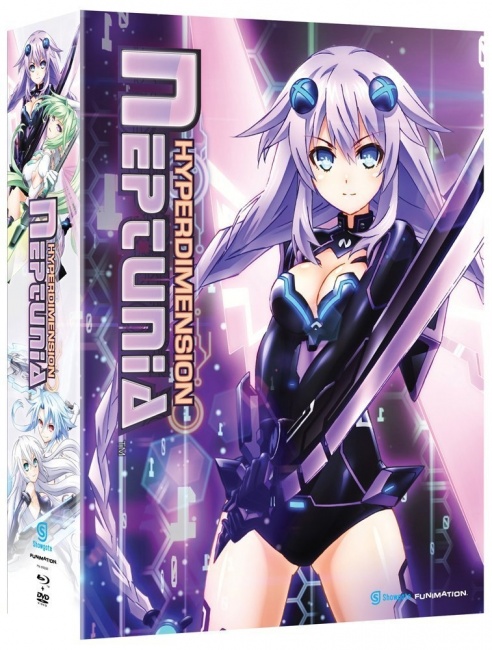 Lots of interesting stuff this week including the
Hyperdimension Neptunia: Complete Collection
(Funimation, 325 min., BD/DVD Combo $64.98, Ltd. Ed. $69.95), which collects the 12-episode (plus an OVA) produced by David Production in 2013 and based on the
Hyperdimension Neptunia
PS3 role-playing video game. The anime, like the game, is real video game-insider's delight with lots of vidgame industry in-jokes with an overlay of old-fashioned melodrama.
Also of interest to those who don't have access to Netflix screening is the Knights of Sidonia: Season 1 Collection (Sentai Filmworks, 300 min., $59.98, BD $69.98, BD/DVD Combo Ltd. $99.98), which collects all 12 episodes of the 2014 series produced by Polygon Pictures and based on seinen mecha sci-fi series published here by Vertical. Directed by Kobun Shizuno and written by Sadayuki Murai, Knights of Sidonia is a serious bit of state-of-the-art science fiction anime for adults, and as such should be seen by all who are interested in anime. This is not a series for kids, it has lots of violence and occasional partial nudity. Netflix localized the series in all its territories, but it will be available here on disc in the original Japanese language with subtitles (as well as dubbed). A second Knights of Sidonia season will drop on Netflix on July 3, 2015.
The 26-episode, 2009 remake of the 1970's Go Nagai Mazinger Edition Z: The Impact (Eastern Star, 600 min., Subtitles, $49.98) is finally available here in a print with English subtitles, and the Ceres, Celestial Legend: Complete Collection (Eastern Star, 550 min., $44.95) includes all 24 episodes of Studio Pierrot series from 2000 that was based on Yu Watase's shojo manga series. Viz Media previously released the Ceres anime, which is now available at a much lower price.
Other re-priced, reissues due on Tuesday include The Sacred Blacksmith: Complete Collection (Funimation, 300 min., $29.98), the Tsubasa Reservoir Chronicle: Clamp Double Feature (Funimation, $9.98), The OniAi Complete Collection (Funimation, BD, Subtitles, $24.98), and Mardock Scramble: The Trilogy (Sentai Filmworks, 200 min., $39.98, BD $49.98), which collects all three Mardock Scramble movies.
The opinions expressed in this column do not necessarily reflect those of the editorial staff of ICv2.com.