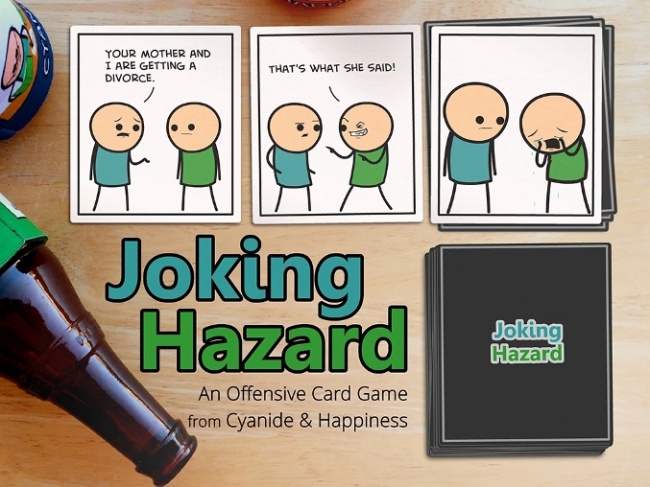 Another humorous card game with ties to comics has landed on ICv2's Top 10 Tabletop Kickstarter chart.
Cyanide and Happiness's Joking Hazard
has finished with more than $3.2 million in pledges and claimed the #5 spot on the chart (see "
$2M 'Cyanide & Happiness' Kickstarter Card Game
").
The card game knocked Dwarven Forge's
Caverns
Dwarvenite Game Tiles off the list, and raised the threshold another $114,167 to more than $2.2 million to crack the Top Ten.
The chart was last updated in February, when Kickstarter revealed tabletop games had passed video games in dollars raised on Kickstarter in 2015 (see "
Tabletop Games Pass Video Games on Kickstarter
").
Top 10 Tabletop Game Kickstarter Projects as of March 10, 2016

Rank

Title

Total $

Raised

Date

Funded

Backers

Dollars/

Backer

1

Exploding Kittens by Elan Lee

$8,782,571

2/19/2015

219,382

$40.03

2

Zombicide: Black Plague by CoolMiniOrNot

$4,078,954

6/7/2015

20,913

$195.04

3

Dark Heaven: Bones minis by Reaper Miniatures

$3,429,235

8/25/2012

17,744

$193.26

4

Conan by Monolith Board Games

$3,327,757

2/11/2015

16,038

$207.49

5

Joking Hazard by Cyanide and Happiness

$3,245,588

3/10/16

63,758

$50.92

6

Reaper Miniatures Bones II by Reaper Miniatures

$3,169,610

10/26/2013

14,964

$211.82

7

Zombicide: Season 3 by CoolMiniOrNot

$2,849,064

7/27/2014

12,011

$237.20

8

Bones III: Search for Mr. Bones by Reaper Minis

$2,730,366

7/25/2015

13,465

$202.78

9

City Builder System by Dwarven Forge

$2,359,260

4/2/2015

2,719

$867.70

10

Zombicide: Season 2 by CoolMiniOrNot

$2,255,018

3/31/2013

8,944

$252.13