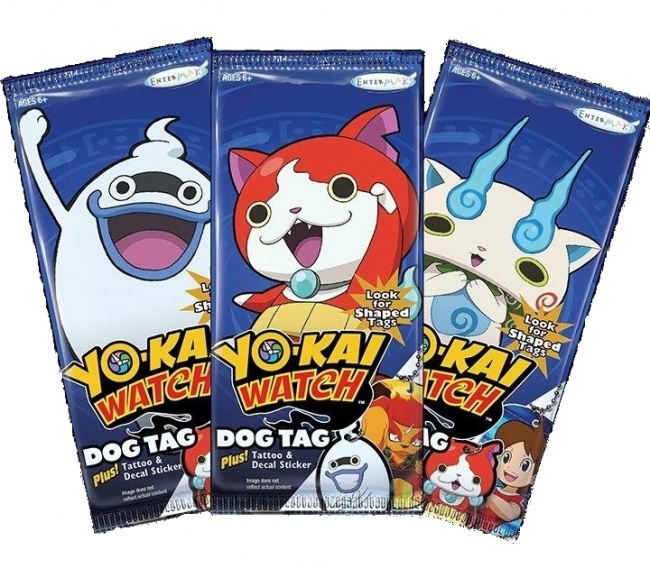 At GTS, ICv2 spoke with Enterplay CEO Dean Irwin to learn more about the company's planned releases for the Yo-Kai Watch property (see "'Yo-Kai Watch' Collectibles Line").

"We're very excited that we're able to be with this brand, "said Irwin. "Our Dog Tag Fun Pack has shipped. We received them last week and already shipped them out to retailers/distribution. They're hitting the shelves this week, so that's fun. They're one of the first products to be out besides the Hasbro product in the market. "

Enterplay plans to release Sticker Card Fun Packs in June, which will include sticker cards, fun content and images, tattoo, stickers and pop up standees. They also plan to introduce collector pins in blind bags. The character pins are scheduled to launch in April with a second series releasing in July. Finally, they plan to release Finally there are slap bands planned for August. Additional products such as EconoClips, which attach to backpacks with a carabineer, are also planned.

The Yo-Kai Watch brand is huge economic force in Japan, with the TV Tokyo animated show a top-rated program with kids 4 – 12. The series currently runs on Disney XD in the U.S. (see "Japanese Hit Comes to U.S. TV"). The first role-playing video game was released in North America by Nintendo last fall. VIZ Media has released the Yo-Kai Watch manga in North America (see "Review: 'Yo-Kai Watch' Vols. 1 & 2 TPs (Manga)"). New mobile apps have also been launched for the games.