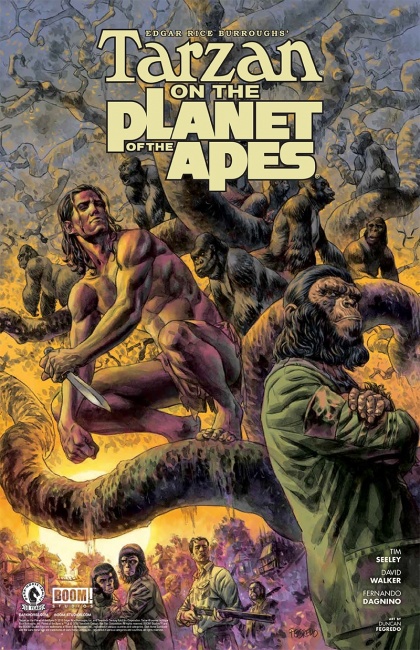 Dark Horse announced two new crossover series, a new
Groo
series, news on Jeff Lemire's
Black Hammer
and more at Emerald City Comic Con this weekend.
With the help of BOOM! Studios, Dark Horse will publish a five-issue Tarzan on the Planet of the Apes miniseries, launching in September. Tim Seeley and David Walker will script, Fernando Dagnino will do the interior art, and Duncan Fegredo will provide cover art. The story will follow Tarzan and his ape brother Ceaser, raised as brothers, as they reunite when the war between humans and apes brings them to the center of the Earth.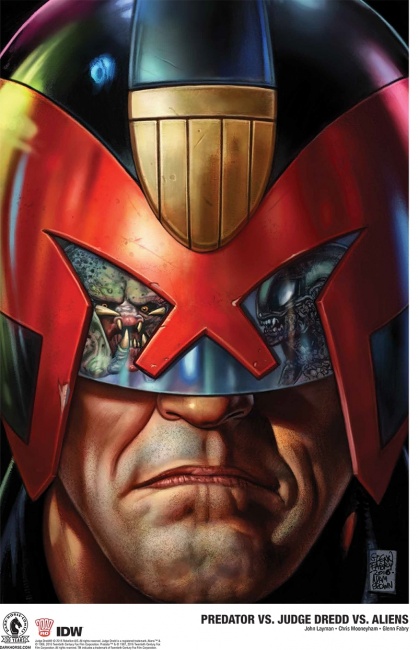 In a second inter-company cross-over, Dark Horse will publish Predator vs. Judge Dredd vs. Aliens in cooperation with 2000 AD and 2000 AD licensee IDW Publishing. The series, which launches in July, will be written by John Layman with interior art by Chris Mooneyham and covers by Glenn Fabry. The story takes place in Alabama, where Judge Dredd and Judge Anderson have tracked a criminal cult, a mad genetic scientist has acquired genes from a xenomorph, and a Predator has declared hunting season.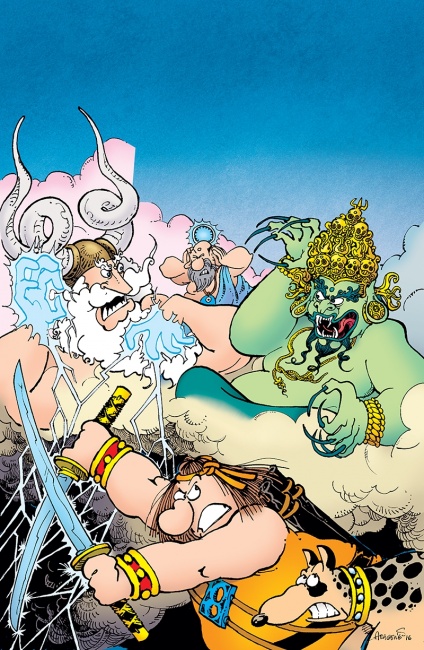 Mark Evanier and Sergio Aragones will launch
Groo: Fray of the Gods,
a twelve issue miniseries, on July 20. Groo becomes a pawn in a war of the gods over the spirit and future of mankind.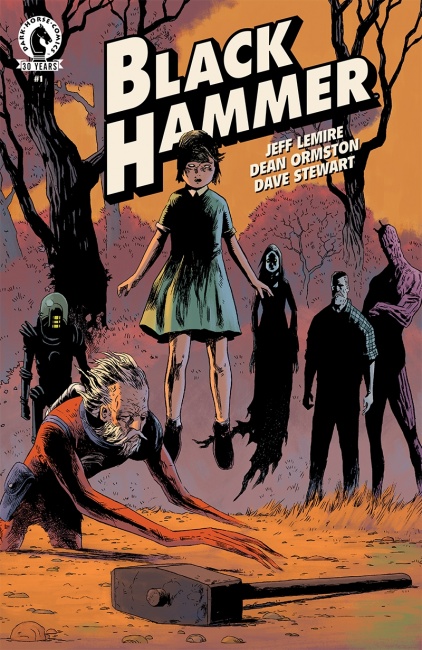 Originally announced for March 2015 (see "
Dark Horse's 12 Title Round-Up
"), Jeff Lemire and Dean Ormston's new ongoing series
Black Hammer
will launch on July 20. With colors by Dave Stewart, the new series follows a group of heroes, banished from existence by a multiversal crisis, who trouble follows to a timeless farming town.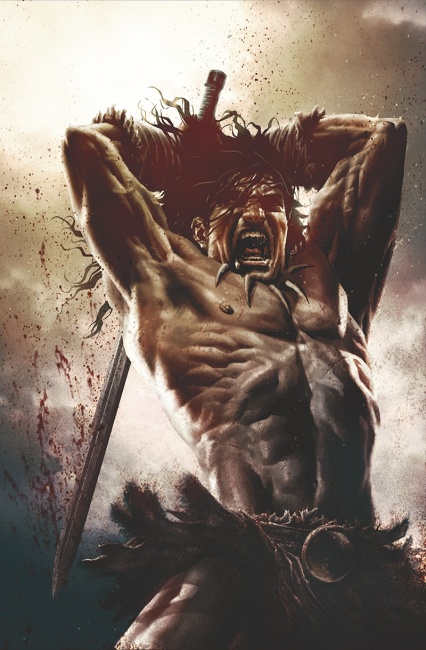 Conan the Slayer
, the next new Conan series, will be written by Cullen Bunn (
Uncanny X-Men
,
Deadpool & the Mercs for Money
), with interior art by Sergio Davila, and a cover and variant cover by Lee Bermejo and Mark Schultz. As the story opens, Conan stumbles into a kozaki camp with a band of Turanian hunters at his back.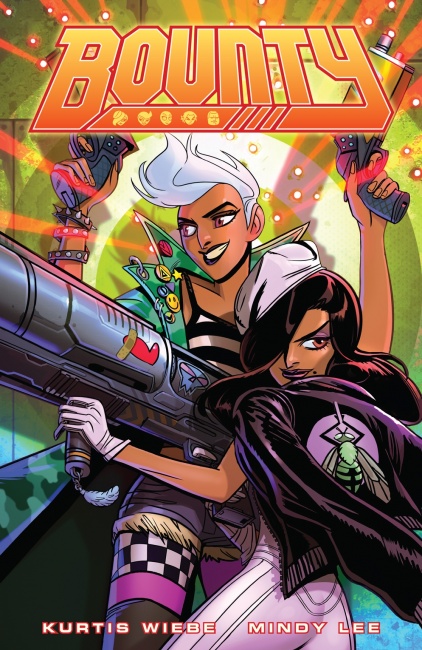 In what Dark Horse describes as "
Rat Queens
meets
Firefly,
" writer Kurtis Weibe (Rat Queens) and artist Mindy Lee will launch
Bounty
, a new ongoing series, in which sisters hunt criminals in the future.
Click any image for larger view.
Dark Horse also announced the initial volumes in its new Moebius Library series (see "Dark Horse Announces First 'Moebius Library' Edition").