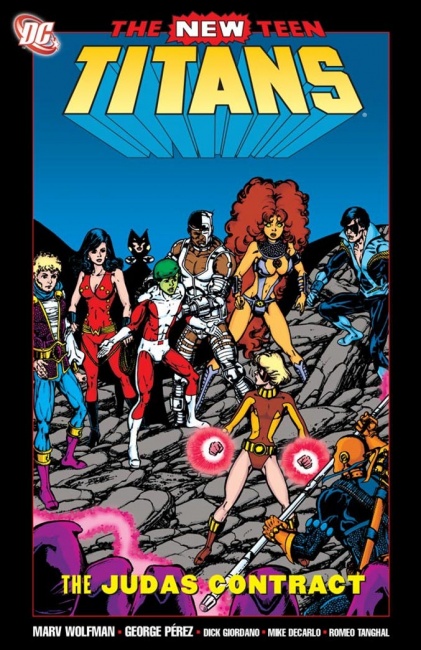 Comic-Con News:
During the
Batman: The Killing Joke
World Premiere Panel at Comic-Con, DC Entertainment revealed the lineup of "direct to video" animated features slated for release in 2017, the most intriguing of which is an adaptation of Marv Wolfman and George Perez' 1984
New Teen Titans
, saga
The Judas Contract
, which won the
CBG's
Award for "Best Comic Book Story of 1984 and remains one of the
Titan's
all-time best narratives.
The Judas Contract
is slated for release in the Spring of 2017 and it will be preceded by
Justice League Dark
, a saga drawn from the comic series of the same name, which will mark the first animated appearance of John Constantine, and followed by
Batman and Harley Quinn
, which will be based on an original story by Bruce Timm, creator of the stylish
Batman: The Animated Series
that aired from 1992-1996.
The Judas Contract
is one of the most intriguing and eventful comic sagas of its era. The Titans are infiltrated by a psychopathic teen named Terra with fearful powers, and the group undergoes major changes as Robin takes on the NIghtwing identity, Wally West steps down as Kid Flash, and then there's the addition of a new member to the team, Jericho, whose father just happens to be Deathstroke. These DC animated features are geared for older fan viewers, and by adapting some of DC's most brilliant narratives such as
The Killing Joke
,
The Dark Knight Returns
, etc., and now
The Judas Contract
, DC is giving its fan base exactly what they want.
Though it is an original story, and not based on a classic DC storyline, watch out for Bruce Timm's
Batman and Harley Quinn
. With the highly-anticipated
Suicide Squad
live action movie debuting next month, Harley Quinn, who is already a hugely popular figure among comic book fans, is likely to explode in popularity as mainstream audiences are exposed to her wacky, anarchic character (she's sort of like "DC's distaff Deadpool," to indulge in a little political-season-inspired alliteration). Bruce Timm, who revolutionized the look of DC's animated characters in the 1990s, can be counted on to provide his unique and stunning visuals, which should make for a very interesting project that can stand on its own.