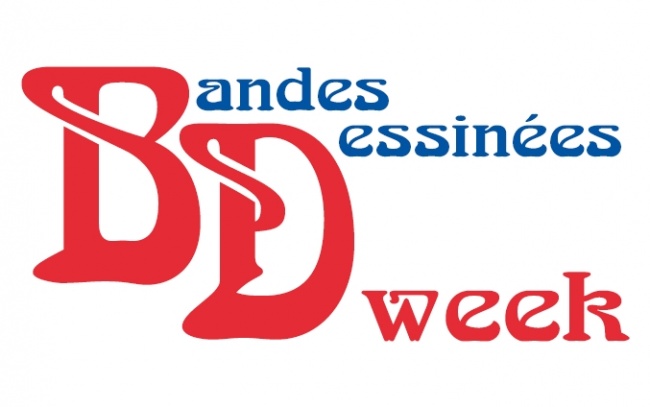 An ICv2 Release.
ICv2 has kicked off its first BD (
Bandes Dessinees
) Week celebration, focused on one of the three greatest traditions of comics in the world (along with manga and American comics).
Bandes dessinees
is the French phrase meaning comics (like manga means comics in Japanese), and "BD" is frequently used here in the U.S. when speaking of the category.
BD are sold around the world, reaching far beyond their roots in French-speaking Europe, with titles like
TinTin
and
Smurfs
among the most popular comics in the world. Here in the U.S., BD have been available since the 70s, with the launch of NBM and
Heavy Metal
(which first introduced the work of Moebius to American audiences, and American artists, on whom he was a great influence).
In recent years, sales of BD have been growing here, with more publishers releasing a greater variety of titles than ever before.
ICv2 CEO Milton Griepp explained why the company is launching this special editorial and promotional event. "I started selling BD way back in the 70s when I was in distribution," ICv2 CEO Milton Griepp, "but it's never been this popular before. Every time I turn around it seems like there's a new publisher bringing in a great BD title, and I'm especially excited about the opportunities to expand the market for comics with the broad range of material BD represents. BD Week is our way of helping to contribute to that expansion."
We're grateful for the support of our sponsors for BD Week:
Europe Comics
Dark Horse Comics
Humanoids, Inc.
IDW Publishing
BOOM! Studios
Papercutz
Please support them by clicking on their ads to learn more about their BD initiatives.

The first special editorial feature for BD Week is an interview with NBM and Papercutz Publisher Terry Nantier, who's been publishing BD continuously for nearly 40 years and has some great observations on the U.S. and French markets (see "ICv2 Interviews Terry Nantier").

Other articles on the business of BD this week include:
"ICv2 Interviews Archaia's Sierra Hahn"
"ICv2 Interviews Humanoids' Fabrice Giger, Part 1"
"ICv2 Interviews Humanoids' Fabrice Giger, Part 2"
"ICv2 Interviews Humanoids' Fabrice Giger, Part 3"
"ICv2 Interviews Mediatoon's Sophie Castille"
"Behind the Moebius Library, and Other Upcoming Dark Horse BD Releases"
"Exclusive: BOOM! to Release New 'Realist'"
"Humanoids May 2017 Solicits"
"Preview: 'The Killer' Vol. 5: Fight or Flight HC (OGN)"
"Preview: 'The Metabaron Book 2: The Techno-Cardinal and The Transhuman' Oversized Dlx. Ed. HC"
"Review: 'Century's End: The Black Order Brigade & Hunting Party' HC"
"Review: 'Carthago' HC"
"Review: 'Equinoxes' HC"
"Review: 'Moebius Library: The World of Edena' HC"

Check back here throughout the week for more on what's happening in this expanding segment of the graphic novel market.

If you're a retailer with a strong focus on BD and are willing to talk about your techniques, please contact us at Tips@ICv2.com.

If you have news on BD we should be covering, please send us a tip at Tips@ICv2.com.

If you've got a comment on what's happening in BD, please send it to Comments@ICv2.com.