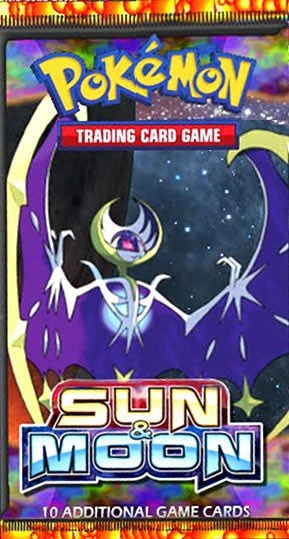 More Pokemon TCG: Sun & Moon releases will hit the streets on February 3, including the Sun & Moon boosters, the Sun & Moon Launch Box, and the Sun & Moon Elite Trainer Box. The Lycanroc-GX Box will release on February 24.

Building on the Pokemon TCG: Sun & Moon Theme Decks releasing January 20 (see "'Pokemon' Adds New Moloetta, Snorlax, Arcanine Cards"), the Sun & Moon booster expansion explores the tropical region of Alola with monsters like Rowlet, Litten, and Popplio, and the Legendary Solgaleo-GX and Lunala-GX, which have powerful attacks that are limited to one use per game.

The complete set will include more than 140 cards, including 11 new Pokemon-GX cards and more than 40 new Pokemon. MSRP is $3.99 per 10-card booster, which are packaged 36 to a display.

For the more serious collector, the Sun & Moon Elite Trainer Box offers eight Sun & Moon boosters, 65 card sleeves featuring one of the main GX monsters, Solgaleo or Lunala, 45 Energy cards, six damage counter dice, one coin-flip die, 2 acrylic condition markers, a player's guide, and a divided collector's box. A code card for the Pokemon Trading Card Game Online is also included. MSRP is $34.99.

To support the new release, a Sun & Moon Launch Box will also be available. This kit includes 12 Sun & Moon decks, eight each of two different foil promo cards, and give-away foldable deck boxes.

Later in February the Lycanroc-GX Box will be released. This boxed set includes a foil promo version of Lycanroc-GX, an oversized version of the card, four booster packs, and a code card for the online game.