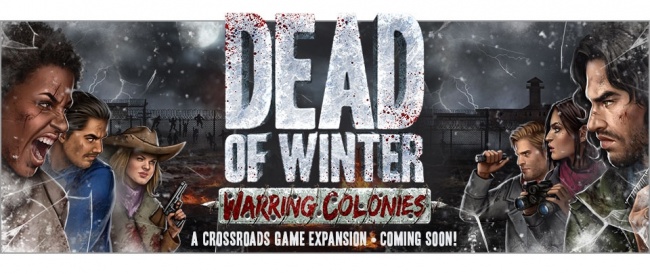 Survival is becoming more warlike with Plaid Hat Games'
Dead of Winter: Warring Colonies
, releasing later this year.
This new expansion set adds a number of new mechanics and elements to the zombie apocalypse survival game. For starter, the game can now be played by 4 to 11 players, competing against each other in two teams. The two colonies must not only contend with each other, but also the hordes of mindless zombies that infest the city, as they try to control the scarce resources and territory. New combat rules govern fights between survivors, while new "join-colony crisis cards" force the two groups to cooperate even as they compete. Finally, a Lone Wolf acting outside of both colonies tries to maintain a balance between them.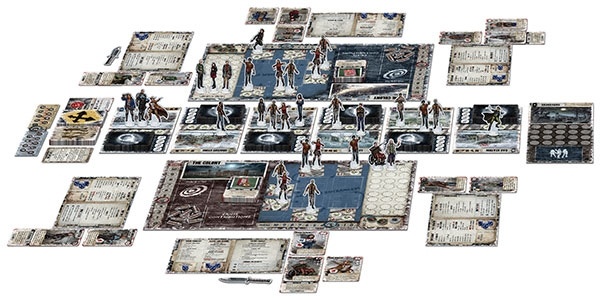 Dead of Winter: Warring Colonies
will include 15 new survivors, 104 new cards, 2 combat dice, battle tactics cards, bullet tokens, and a sand timer. It can be combined with the base game, with or without the
Dead of Winter: The Long Night
expansion (see "
New Stand-alone Game / Expansion for 'Dead of Winter'
"). Release date and MSRP have not been announced.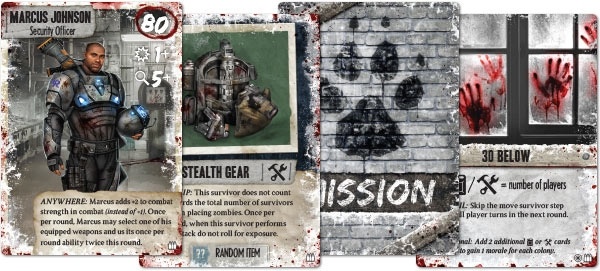 Dead of Winter
has developed a significant following, ranking fourth on ICv2's list of top board games for last Spring (see "
Top 10 Hobby Channel Board Games--Spring 2016
"), and inspiring a new comic book series from Oni Press (see "
'Dead of Winter,' 'Made Men,' 'Spectacle'
").
Click the Gallery below for full-size versions of all three images.