Hasbro Inc. has revealed the first games for its Hasbro Gaming Crate service as it begins accepting preorders for a fall launch.
Hasbro announced plans to join the subscription box business in April (see "Hasbro Launches Game Subscription Box"). The boxes will feature an exclusive collection of games curated by Hasbro Gaming experts, delivered quarterly to the subscriber's door. The Party Crate will contain games geared towards young adults, college students and adults looking to host "adults only" game nights. The Family Crate includes games designed to be played by children and adults together. Each crate will feature three games "new to the Hasbro Gaming portfolio," according to the press release. MSRP is $49.99, plus shipping. Currently orders are limited to the United States. Estimated shipping date for the first crates is August.
The first Family Crate, with the theme "Family Staycation," will include Mask of the Pharaoh, a cooperative virtual-reality board game. Players must download the Mask of the Pharaoh app to their smartphone, then use the included VR mask to describe their location in a mysterious pyramid to the other players, who use physical game titles to complete the path to victory. Also includes are Leo Goes to the Barber, a matching/memory game where players work together to help Leo through the jungle to make his hair cut appointment; and Tricky Wishes, a card game where players must match three kinds of wishes: a Superpower, a Gift, and a World Harmony, swapping and shuffling to collect the highest-scoring set.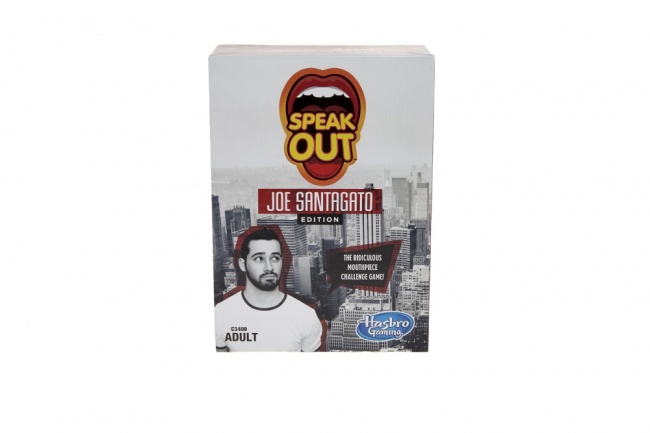 The first Party Crate, themed "FOMO," will include
Speak Out: Joe Santagato Edition
, an "adults only" version of the
Speak Out
mouthpiece challenge (see "
'Speak Out'
"). Players will be challenged to say phrases white wearing a mouthpiece, in this edition featuring "NSFW" content inspired by internet comedian Joe Santagato. The crate will also include
Judgmental
, a tournament-style game where players choose a famous character (historical figure, fictional character, celebrities) and debate who would win a ridiculous contest; and
Box of Rocks
, a fast-paced trivia game where players compete against an actual box of rocks.
See images of the first two games in the gallery below.