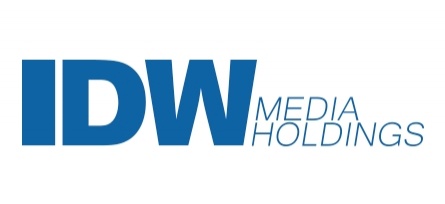 IDW Media Holdings has announced a private placement of roughly $10 million in shares to be sold to existing shareholders, one step of several announced over the past few days to increase the cash available to the company as it invests in growth. The company also announced that it is suspending its quarterly dividend, and that its entertainment division has obtained a bank production financing commitment of $3.2 million. The new round of funding comes roughly one year after the company raised $4 million in a similar private placement (see "
IDW Raising $4 Million
").
Meanwhile, the company reported a $1.8 million loss in the quarter ended April 30, 2017, a big swing from the $81,000 profit in the same quarter a year ago. Revenues declined 33% to $8.9 million from $13.4 million in the year ago period.
Revenues declined in all three divisions: IDW, which includes IDW Publishing and IDW Games; IDW Entertainment, which was created to develop and produce TV shows and movies; and CTM, which distributes tourist information. All three divisions showed operating losses.
IDW's publishing revenues declined to $4.9 million from $5.4 million in the same quarter last year, which the company attributed to release timing and to the disruption related to the transition from Diamond Book Distributors to Penguin Random House on April 1 (see "
IDW Moves Book Distribution to Penguin Random House
").
IDW Games sales were down $220,000 due to release timing and other factors, the company said.
Direct costs in the publishing division were higher as a percentage of sales due to "the rapid success of a book series that applied upward pressure on printing cots to meet demand." We're guessing they're talking about the
March
series, which blew up even more in February after a tweetstorm by President Trump put author Congressman John Lewis in the headlines.
IDW Entertainment revenues declined to $42,000 from $3.6 million in the year ago period due to the timing of TV show premieres.
CTM revenues declined to $4.0 million from $4.5 million a year ago due to major accounts' insolvencies, Broadway show closings, and other changes.
The company has been increasing its non-cash compensation, one reason for an increase in Selling, General, and Administrative expenses of $1.1 million in the quarter. IDW Media Holdings CEO Ted Adams received a grant of 57,532 shares of Class B Common Stock vesting over the next three years. Valued at the price of the latest stock offering, the grant is worth roughly $1.7 million over the vesting period.
The quarter ended April 30 is an aberration from recent periods, including the quarter ended January 31, in which publishing division profits were down but sales were up (see "
IDW's Publishing Revenues Up, Profits Down
"), and from the fiscal year ended October 31, 2016, in which the company made $3.7 million (see "
IDW Profits Up in Down Year for Publishing
").