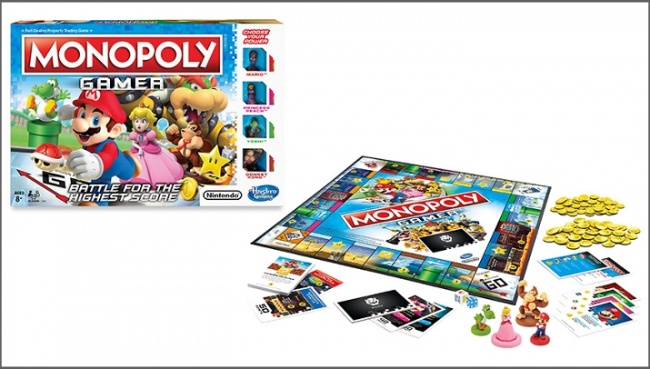 Popular characters from Nintendo's long-running
Super Mario
series of electronic games are now appearing in a special
Monopoly Gamer
edition. Retail chain GameStop has an exclusive on the title until August, when Hasbro will release it into general distribution.
Monopoly Gamer adds a "gamer game" twist to the classic game of property trading by introducing features inspired by the games of Nintendo. Instead of buying properties, players hope to "complete levels" as they move their Nintendo characters - Mario, Donkey Kong, Princess Peach, and Yoshi - around the game board collecting coins and fighting Bosses in special Boss Battles.
Each character has its own unique special ability, a first for the Monopoly franchise, that gives players more strategic options. Special "Super Star" spaces on the board and a "Power-up die" also allow players to use special abilities. MSRP for the game will be $24.99.
Taking another cue from the gaming hobby, Monopoly Gamer will also feature mini-expansions called Power Packs in August. Each Power Pack adds a new character to the game, with its own unique abilities. To date, Luigi, Boo, Rosalina, Wario, and Diddy Kong have all been confirmed as appearing in Power Packs, which are MSRP $2.99 each.
Monopoly Gamer is currently available at GameStop stores, with trade release in August. The GameStop exclusive version also features premium packaging, a special storage tray, and a Bowser token that will not be available when the game sees general release.
USAopoly, which has Super Mario license, recently released Super Mario Level Up! Board Game (see "USAopoly Plans 'Super Mario' Board Game").