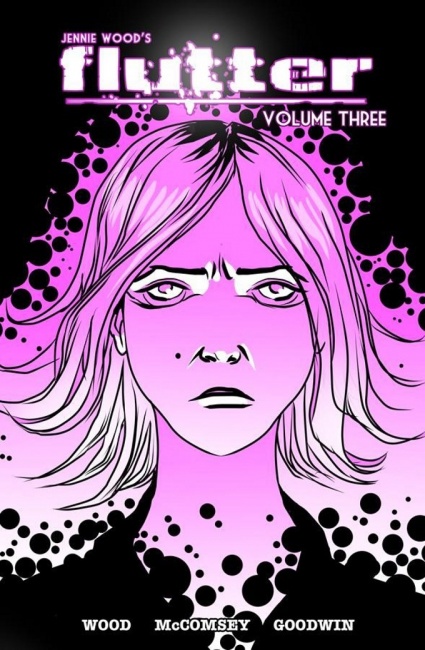 San Diego Comic-Con News:
Dark Horse Comics announced that as part of its ongoing deal with Universal Cable Productions , the two companies are developing Matt Kindt's
MIND MGMT
and Jennie Wood's
Flutter
for television. At the SDCC Dark Horse also announced that it was renewing its "first look" agreement with Universal Cable Productions (see, "
Dark Horse Signs First Look Deal With Universal
"), just a week after the news broke that Netflix had ordered a UCP developed live-action adaptation of another Dark Horse comic book series, Gerard Way's
Umbrella Academy
(see "
Gerard Way's 'Umbrella Academy' Comes to Netflix
").
Katherine Lundberg and Marc Rosen are developing
Flutter
, which is based on the award-winning LGBTQ-themed graphic novel written by Jennie Lee and drawn by Jeff McComsey and published by 215 Ink.
Flutter
follows the adventures of a teenage shapeshifter who turns herself into a boy in order to romance the straight girl she likes.
Dan Cerone, who developed the
Constantine
series with David Goyer, is working on the adaptation of Kindt's
Mind MGMT
, the saga of a true crime writer, who when looking into a mysterious airplane accident, discovers a secret government agency and a rogue agent, who is now bent on destroying the hidden espionage operation.
Other active Dark Horse/UCP productions include Cullen Bunn's
Harrow County
(see "
SyFy Developing 'Harrow County'
") and Paul Chadwick's Eisner Award-winning
Concrete
. In addition to adding
Flutter
and
MIND MGMT
to the active slate, Dark Horse and Universal also announced that they were developing the podcasts
Tanis
and
The Bright Sessions
for television.