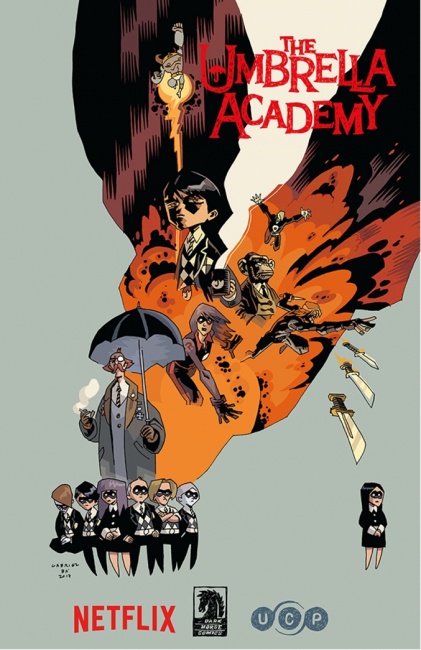 Dark Horse Comics announced a deal with Netflix to create a live-action 10-episode adaptation of Gerard Way and Gabriel Ba's
The Umbrella Academy
comic series.
The show will be produced by Universal Gable Productions, which has had a "first look" deal with Dark Horse since 2015 (see "Dark Horse Signs 'First Look' Deal with Universal Cable Productions"). "It's a thrill to be producing this wonderful show for Netflix," said Jeff Wachtel, Chief Content Officer, NBCUniversal Cable Entertainment, and President, Universal Cable Productions. "It's been a passion project for the UCP development crew and we can't wait to bring it to life."
Steve Blackman (Fargo, Legion, Altered Carbon) was announced as executive producer and showrunner for the project, with additional executive producers Bluegrass Television, and Mike Richardson and Keith Goldberg from Dark Horse Entertainment. Gerard Way will serve as co-executive producer. The pilot script was adapted by Jeremy Slater (The Exorcist). The series will premiere on the internet TV network worldwide in 2018.
The Umbrella Academy was launched in 2007 (see "Dark Horse Previews 'The Umbrella Academy'") and won an Eisner Award in 2008 for Best Limited Series (see "Dark Horse, DC Top Eisners"), as well as a Harvey Award for Best New Series (see "2008 Harvey Awards"). The plot follows the members of an estranged superhero family : The Monocle, Spaceboy, The Kraken, The Rumor, The Séance, Number Five, The Horror, and The White Violin, as they work together to solve their father's mysterious death, while fighting like a pack of dysfunctional siblings will.