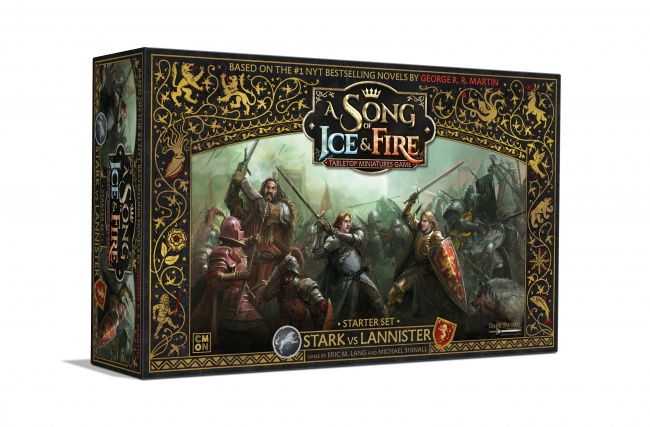 Fans of George R.R. Martin's fantasy world will have a new way to experience the story when CMON releases
A Song of Ice & Fire: Tabletop Miniatures Game
next March.
A Song of Ice & Fire: Tabletop Miniatures Game Star vs. Lannister Starter Set comes with everything players need to start fighting battles between House Stark and House Lannister, including more than 100 pre-assembled plastic miniatures. Created by Eric M. Lang (Blood Rage, Arcadia Quest) and Michael Shinall (Rum & Bones, XenoShyft), the game combines military and political themes taken from Martin's books. Players can maneuver their forces on the battlefield, using trays to make movement easier, hoping to strike a decisive blow. Alternatively, they can use special "non-combat units" to advance their political goals. Balancing actions on the battlefield with action by non-combat units is the key to victory.

The
Starter Set
includes complete armies for Stark and Lannister, with a total of 103 unpainted pre-assembled miniatures created by the studio at Dark Sword Miniatures under direct supervision by Martin. 9 movement trays are provided for players to easily maneuver their models on the tabletop. The game also comes with 98 cards, 62 tokens, 10 dice, 2 measuring sticks, 1 tactics board, and a scenario book with five different ways to play. MSRP is $150.00.
See the gallery below for images of miniatures from the game.
CMON is funding the production of the new title through a highly successful Kickstarter campaign, this time blasting past the $300,000 funding goal in the first hour and breaking $600,000 in its first day. Retailers who are members of the CMON Play program may support the Kickstarter by making a Retail Pledge. Participating stores will receive copies of the game and all unlocked stretch goals.
CMON's recent Kickstarter for its latest Zombicide game catapulted to number four on ICv2's top Tabletop Game Kickstarter list (see "'Zombicide: Green Horde' Shambles Onto Top 10 Tabletop Kickstarter Chart").
The CMON Play program was launched earlier this year (see "CMON Unveils Brick and Mortar Retail Program").