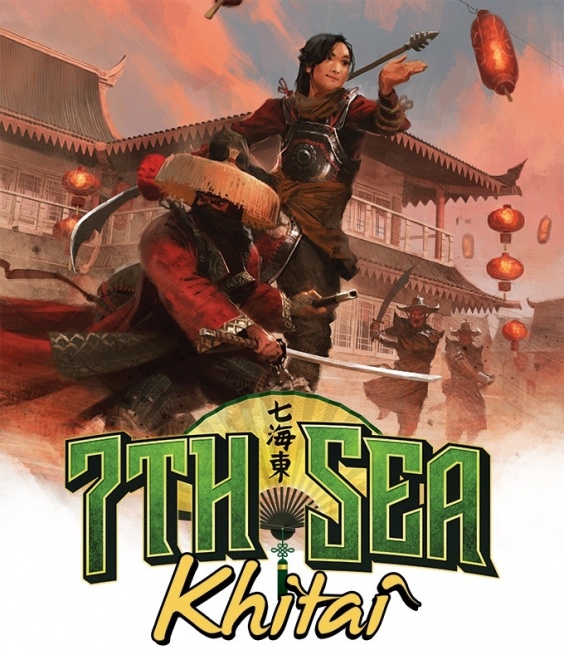 John Wick Presents will release a companion role playing game to the popular
7th Sea RPG, 7th Sea: Khitai
in 2018. The project is currently seeking funding on Kickstarter.
The stand-alone role playing game is set in the same world as 7th Sea, Theah, but set far to the east, in the nations of Fuso, Han, and Shenzhou. Khitai is full of magic and mystics, gods and spirits; a world of monster-infested mountains and seas. Lead Writer John Wick was instrumental in creating the story for Legend of the Five Rings (both CCG and RPG), and now he returns to that territory and mythology with Khitai. The game uses the same system from 7th Sea, but with new additions that fit the concepts of the East. MSRP for the 300+ page 7th Sea: Khitai Core Rulebook will be $59.99. Additional sourcebooks will be $39.99.
The Kickstarter has already raised $161,000 from nearly 2,000 backers as of this writing, well over its $50,000 goal, and will continue through November 12. The campaign includes a retailer level for four copies of the Core Rulebook, digital copies of the entire line, and the ability to order more rulebooks, sourcebooks and add-ons. Backer fulfillment is planned for August 2018.
John Wick told ICv2 that the company is hoping to expand their retail support program in the next year with an organized play program.
The Kickstarter for the new edition of 7th Sea raised more than $1.3 million dollars in February 2016 (see "'7th Sea' RPG Kickstarter Makes $250K") and the game was nominated for the Origins Award for Best Role Playing Game in 2017 (see "Origins Award Nominees").