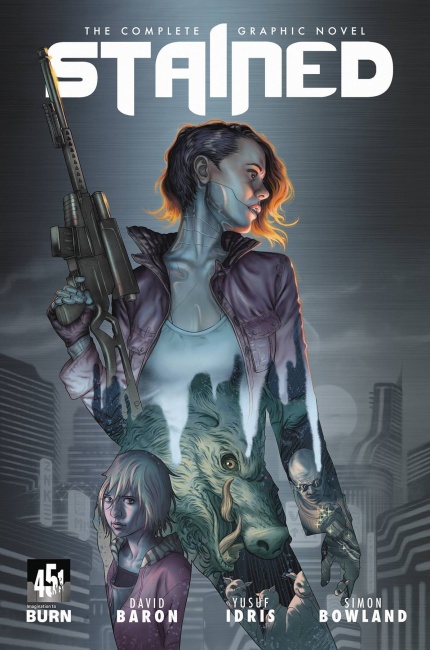 This fall, 451 Media Group began releasing graphic novel collections of its published comic series from the past two years. Now it has shared information on six graphic novel releases planned for the first half of 2018.
Stained, written by David Baron and drawn by Yusuf Idris, will release on January 17. Emma London is a cyborg recovery artist and bounty hunter who tracks down things and people from the darker side of society. In pursuit of a priceless painting, she encounters something dark and monstrous, even by her standards. Release is planned for January 17. MSRP is $15.99.
NVRLND is written by Stephanie Salyers and Dylan Mulik, and illustrated by Leila Leiz. Set in a dark re-imagining of Peter Pan, Wendy Darling and Tiger Lily fall into the rave scene at NVRLND. 451 released the comic miniseries with a cross-platform media experience last year (see "Movie / Music Support Comic Sales"). The graphic novel will release in stores on February 14.
George Pelecanos, who is known as an author and producer on The Wire, Treme, and The Duece, has created S6X, a warfare drama that shows fighting at its worst and soldiers at their best. Written by Andi Ewington and drawn by Mack Chater, the story follows a woman who must turn to her husband's old special recon marine squad to help her deal with a vicious Mexican cartel. Release is planned for March 14.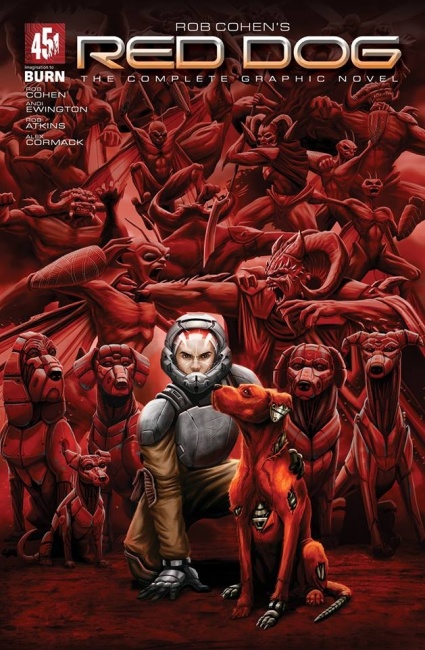 Red Dog
was a six-issue series created and written by Rob Cohen (see "
451 Media Launching 'Red Dog'
"), released earlier this summer. The sci-fi tale of a boy and his cyber-dog lost on a hostile planet will be collected as a trade paperback on April 18.
Exmortis was created and written by Peter and Paul Williams, who did vfx for movies including Avatar and The Avengers. The series was adapted by Andi Ewington and illustrated by Rayund Bermudez and Ty Daze. Project Ex-Mortis was the Nazi's secret project to use Dr. Victor Frankenstein's diary to create an army of undead infantry to fend off the Allies. The Allies responded with their own paranormal specialists, including the Wolfman, Frankenstein, Dracula, and the Phantom. The graphic novel will be released in stores on May 16.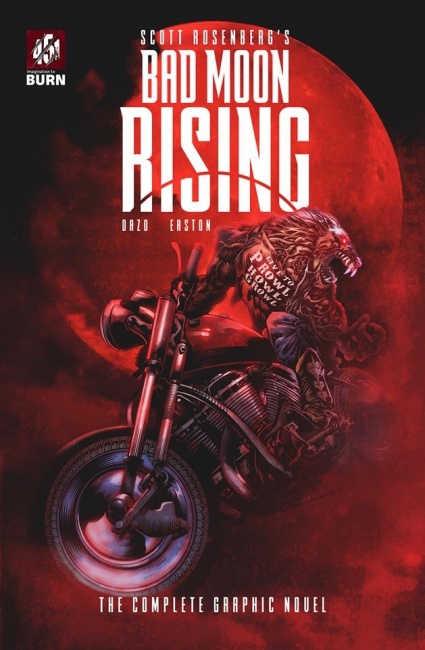 Bad Moon Rising
was written by screenwriter Scott Rosenberg (
Con Air, High Fidelity,
upcoming
Venom
), and adapted by Brandon Easton and drawn by Ty Daze. When the son of Sheriff George Hanion comes home after his father's murder, he finds out the Lunar Cycles motorcycle gang may be to blame. And when a werewolf hunter shows up, claiming the bikers are up to something otherworldly, it's time for all-out war. Release is planned for June 13.
451 Media Group was formed in 2015 by Transformers director Michael Bay with John and Anthony Gentile (see "451 Media Group to Publish Graphic Novels").
(See covers for all six releases in the gallery below.)
In September, 451 Media released Sunflower by Mark Mallouk and Lee Carter, followed by Self Storage by Clay Chapman and Matt Timson, and Humbug by A.J. Gentile and Cosmo White last week.