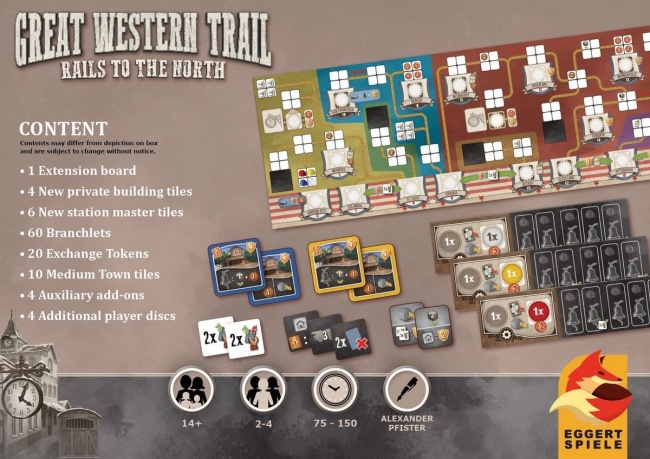 Eggertspiele will release an expansion for the popular
Great Western Trail
game in June, after a premiere at Origins on June 13.
Great Western Trail – Rails to the North expands Alexander Pfister's game of 19th Century rival cattlemen by introducing a new railway system for players to compete on. Players will deliver their herds to the station to be delivered to the northeast U.S. (Chicago, Detroit, NYC). Players will have to build relationships with the local branchlets, and help build towns to gain influence. The game's strategic depth will also be deepened with the addition of station master tiles, private buildings, and an expanded player board. The game is for 2 – 4 players, ages 14 and up, and plays in 75 – 150 minutes. As an expansion, it requires the base game to play. MSRP was not announced.
German publisher Eggertspiele was bought by Plan B Games Europe GmbH in May 2017. Eggertspiele is the publisher of Camel Up, Imperial, Village, Rokoko and Great Western Trail. In the past, the publisher had partnered with American companies like Z-Man Games and Stronghold Games to release these titles in North America (see "Stronghold, Eggertspiele Announce Partnership"). The printing rights for Great Western Trail reverted to Eggertspiele at the end of 2017. Great Western Trail was recently reprinted and is available in the North American market.
Eggertspiele will be releasing Coimbra at Gen Con (see "Portuguese Age of Discovery Comes Alive in 'Coimbra'").