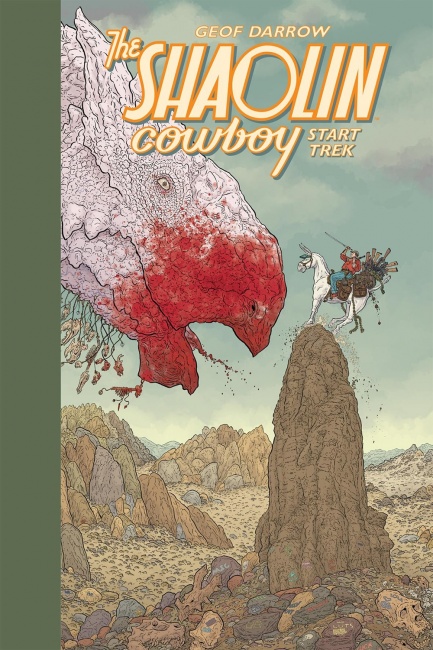 Dark Horse Comics will bring Geoff Darrow's hard-to-find masterpiece back to print.
Shaolin Cowboy: Start Trek
collects the original seven-issue series from Burlyman Entertainment. The hardcover volume features a new cover by Darrow and Dave Stewart and will be in stores on July 11 for an MSRP of $24.00.
Shaolin Cowboy was nominated for three Eisners in 2005, and Darrow won the Eisner Award for Best Writer / Artist for the series in 2006. The Dark Horse edition is the first-ever hardcover release for the series, which was colored by Pete Doherty, Alex Wald, and Lovern Kindzierski. The collection includes illustrations by Moebius (Jean Giraud), Richard Delgado, Mike Mignola, Kevin Nowlan and John Severin.
Dark Horse has released several hardcover reissues of Darrow's award-winning work, including Hard Boiled (see "New Hardcover Edition Of 'Hard Boiled Planned"), which has been optioned for a feature film with Ben Wheatley (High-Rise) attached to direct (see "'Dune,' 'Old Guard,' 'Hard Boiled,' 'Dark Tower,' 'Predator,' More").