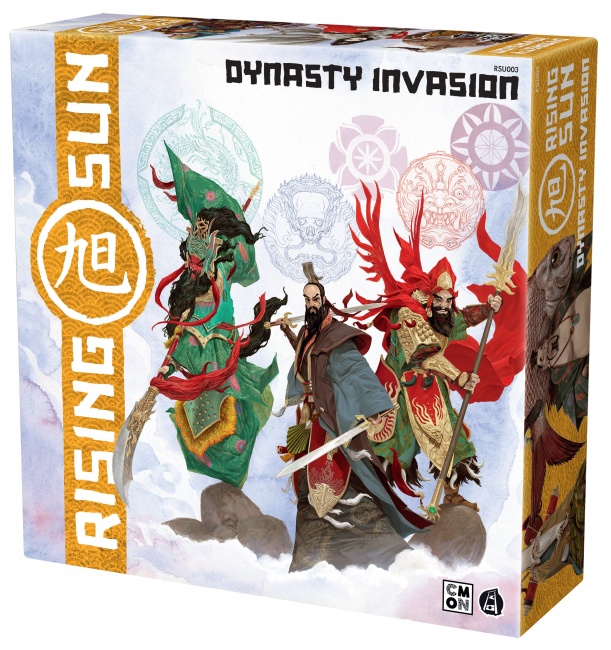 When CMON releases the highly-anticipated samurai war game
Rising Sun
on March 30, it will also release the first three expansion sets:
Dynasty Invasion
,
Kami Unbound
, and
Monster Pack
.
The largest of the three expansions will be Dynasty Invasion. This expansion adds two new Dynasty Clans—the Moon and the Sun Clans—as well as the Seven Lucky Gods, who can be chosen to replace the Clan Monsters for any Clan. Thanks to the two new Clans, the game can now support up to six players. New Season cards are also included in the expansion.
Dynasty Invasion will include 27 new miniatures with 22 miniature bases, 22 cards, 2 Clan screens, 4 plastic clan markers, 1 Political/War tile, and 10 tokens. MSRP is $59.99.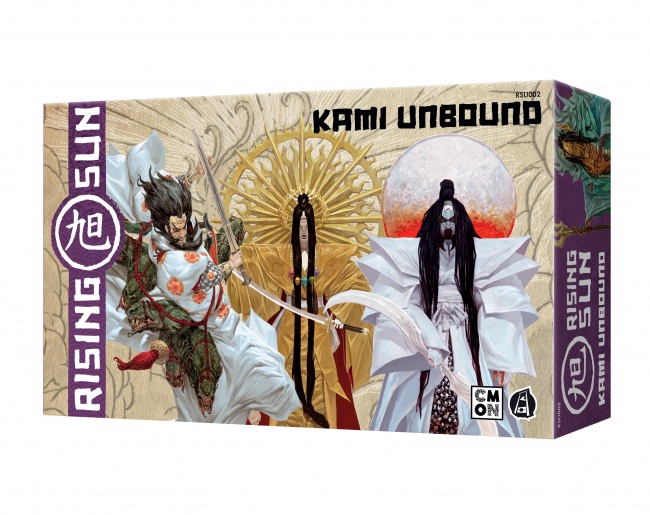 The
Kami Unbound
expansion introduces miniatures for the Kami of the spirit realm. The Kami will aid the Clans that worship them the most fervently. The Kami included are the same as those in the base game, but in this expansion they gain new abilities and the power to influence Provinces directly. New Mountain Season cards are also included.
Kami Unbound has 7 plastic miniatures, 7 Kami cards, and 15 Season cards. MSRP is $34.99.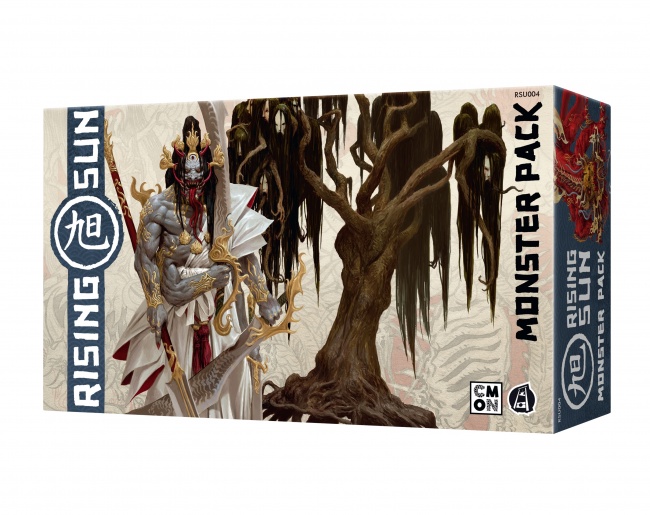 Rounding out the first trio of expansions will be the
Monster Pack
, which offers four new Monsters for players to recruit into their Clans, each with new, unique abilities, along with new Season cards.
Monster Pack comes with 4 plastic miniatures, 4 Season cards, and 5 miniature bases. MSRP is $29.99.
All three expansions require the base game to play.
Click on the gallery below to see images of the components from all three expansions.
Rising Sun has generated a lot of buzz in the market since it's multi-million dollar Kickstarter campaign last spring (see "CMON Reveals Eric Lang's 'Rising Sun'"). It still sits at #7 on the list of top-funded tabletop game Kickstarter campaigns (see "'Nemesis' Breaks Into Top 10 Tabletop Kickstarter Chart").